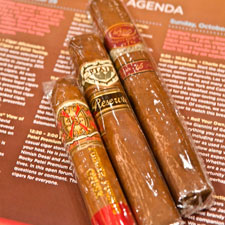 Photos by Sjodin Photography
Each attendee received a bag filled with the top three non-Cuban cigars of 2010 .
2011 Big Smoke Saturday Seminars: Top Three Legal Cigars of 2010 Tasting
(continued from page 2)
"Jorge is very cagey with details," said Savona. "I ask him what's in it and he says 'Oh, you know, I make my cigars you write your stories and that's all you really need to know.' He does tell me that he puts old tobacco in here. Think back to where you were 10 years ago because that's when some of the seeds for this tobacco were planted. You're smoking some of the oldest tobacco from the Padróns. These guys love tobacco and take great care to make great cigars like this one. I hope you enjoy it as much as we do."
There's no set rule as to when audience members should smoke certain cigars. Some follow the show, smoking the cigars when they are introduced, others just smoke whatever looks interesting, and others are so impressed by the rarity of their packet that they don't smoke them at all, but save them for another time.
Regardless, the three cigars of the Saturday seminars were a diverse representation of the industry and the perfect score to a day of tobacco education, and, more importantly, enjoyment.
Big Smoke Evenings
2011 Big Smoke Evenings, Las Vegas
Big Smoke Saturday Seminars
Top Three Legal Cigars of 2010 Tasting
An Insider's View of Cuba Today
Today's Hybrids: The Tobacco Used in Your Cigars
Size Matters
Lunch with Rocky Patel Premium Cigar Co.
Big Smoke Sunday Seminars
Breakfast with Charlie Palmer
Roll Your Own, Seminar No. 14
The Cognac Connection
Big Smoke Weekend Photo Gallery
Slideshow: 2011 Big Smoke Las Vegas Weekend
Comments
2 comment(s)
Ed Harvey — Auburn, WA, United States, — November 3, 2011 3:55am ET
---
audyaver — November 8, 2011 3:39pm ET
---
You must be logged in to post a comment.
Log In If You're Already Registered At Cigar Aficionado Online