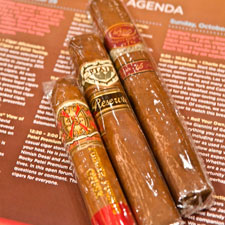 Photos by Sjodin Photography
Each attendee received a bag filled with the top three non-Cuban cigars of 2010 .
2011 Big Smoke Saturday Seminars: Top Three Legal Cigars of 2010 Tasting
(continued from page 1)
The Viaje Oro VOR No. 5 gave smokers something to enjoy during the next seminar, which focused on Cuban cigars and the U.K.'s retail market. When that seminar concluded, Cigar Aficionado's senior editor David Savona introduced Carlos "Carlito" Fuente Jr., and his Dominican puro cigar.
"I invite you to light up the Fuente Fuente OpusX XXX Belicoso," said Savona, "Cigar Aficionado's Number three cigar of 2010."
Fuente came to the stage and said, "I'd like to light up my cigar because I'm only half a man without it. To us, the most meaningful things are friends and family, and each and every one of you are not only my friends, but an extension of my family."
He then called his sister Cynthia, his daughter Liana and Wayne Suarez up to the stage for "support." Approaching the 100th anniversary of his company, Fuente gave an emotional retrospective of his family's history. Rather than talk about his Dominican-made cigar, he paid tribute to his grandfather, who emigrated from Cuba to Florida, and all his struggles while making cigars, first at the Gato factory in Key West, and then on his own at A. Fuente in 1912 in Tampa Florida.
Fuente also painted vivid pictures of life in Ybor city and the cigar industry before the revolution. "In the 1920s, Tampa, or Ybor City, had more than 200 factories making 500 million cigars made with Cuban tobacco," Fuente said. "It was a community where in every corner, there was a cigar factory." Fuente also illustrated the plight of Cuban exiles forced to leave their homes and establish their trade in other countries and gave thanks to Cigar Aficionado magazine for reinvigorating the industry.
Carlito Fuente speaking to the Big Smoke audience.
"This cigar got a 95?" said Fuente holding up his OpusX. "If it was three inches longer it would have got at least three more points," he said jokingly. "One thing I've learned is that everything is family. You need their strength and support. You cannot achieve anything alone."
A round of applause segued into the next seminar on hybrid tobaccos, after which, Gordon Mott introduced the number four cigar of the Year—the Padrón Family Reserve No. 45 natural made in Nicaragua. But due to the unexpected and unrelated deaths of two Padrón employees in Nicaragua, Jorge and José Orlando Padrón, who were scheduled to speak, could not attend, so the audience lit up the smokes (which were in their packets) in the Padrón's honor while Savona and Mott spoke about the cigars.
"Of the seven Cigars of The Year that we've had since we started that award, they have won three of them and have never finished out of the top four," said Mott. "To me, it's just a statement of what they themselves say. They want quality over quantity."
At one time, the Family Reserve was commercially unavailable, reserved only for events where a family member was present. Then in 2009, the Padróns introduced it to the general public.
Cigar Aficionado smoked the No. 45 in a natural wrapper over the course of 2010. Its original high score qualified it to become a finalist for the Cigar Of the Year and the smoke did progressively better, rising in the ranks until achieving the number four spot.
Comments
2 comment(s)
Ed Harvey — Auburn, WA, United States, — November 3, 2011 3:55am ET
---
audyaver — November 8, 2011 3:39pm ET
---
You must be logged in to post a comment.
Log In If You're Already Registered At Cigar Aficionado Online