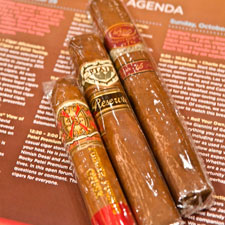 Photos by Sjodin Photography
Each attendee received a bag filled with the top three non-Cuban cigars of 2010 .
2011 Big Smoke Saturday Seminars: Top Three Legal Cigars of 2010 Tasting
Halloween weekend in Las Vegas can be described as a combination of Mardi Gras, Carnival, and some spooky pageantry. Its casinos are full of characters whose costumes range from the surreal to the sexy and its vast atriums are decorated in welcoming autumnal colors, warmed by a theme of harvest—and the smell of cigar smoke, thanks to Cigar Aficionado magazine's 16th annual Las Vegas Big Smoke celebration.
The event came early this year to the Venetian Hotel, coinciding with one of Vegas's most festive weekends, though Big Smoke loyalists were not deterred. Celebrity parties up and down the strip mean nothing to a cigar enthusiast when so many industry luminaries and cigar lovers converge as they do at the Big Smoke weekends.
The seminars, which are the perfect balance of the academic and the recreational, began at nine o'clock Saturday morning, where each attendee was handed a Humidipak bag containing our top three non-Cuban cigars of 2010. For a cigar lover, this is a particularly exciting offering, as many Big Smoke guests live in areas where these cigars are exceedingly difficult, if not impossible, to obtain.
Gordon Mott introduced the top cigars and their makers.
Some guests lit up their smokes as soon as they got them, unable to contain themselves for the introductions. Who could blame them? A Viaje Oro VOR No. 5 Reserva, the Fuente Fuente OpusX XXX Belicoso, and the Padrón Family Reserve No. 45 in its natural wrapper were numbers two, three and four, respectively, from our 2010 Top 25 list. Each had rated 95 points in that tasting, classic on our 100-point scale. As the show began, executive editor Gordon Mott took the podium to introduce the cigars and their makers.
"Twenty years ago this month I was sitting in my office and Marvin Shanken walked in and said 'How'd you like to work on a cigar magazine?' Honestly, I thought he was just having a bad day. I mean, a cigar magazine in 1992? We were in a sort of mini recession and the anti-tobacco folks were on a rampage. Nine months later, the magazine was in a warehouse in Chicago waiting for shipment to the first RTDA we ever attended. Here we are 20 years later, and I have all of you to thank."
Mott went on to introduce the first cigar of the morning, Viaje's Oro Reserva VOR No. 5, the No. 2 Cigar of 2010.

"Smoking it was one of those revelations. It was like 'Wow, what is this?" said Mott. "I had never heard of it."
The brand is owned by 33-year-old Andre Farkas, who started the company in January of 2008. After a brief but memorable stint in cigar retail, Farkas realized that his career as a talent agent in Los Angeles was unfulfilled and yearned to be back in the tobacco business, explaining his dissatisfaction with the entertainment industry: "If you didn't give up your entire existence to the job," he said, "there was no chance for success."
Andrew Farkas speaks about his Viaje Oro Reserva VOR No. 5 cigar.
By 2008 he started the Viaje brand, which means "journey" in Spanish. "It seemed like a word that most could relate to."
Originally produced in the Joya de Nicaragua factory, Viaje is now made at Raices Cubanas in Honduras and the Oro Reserva was part of a small-batch production.
"Being a small manufacturer gives me tremendous freedom to be creative, to control quality and to be nimble as a company. I can change directions at a moment's notice," said Farkas. The audience listened as they smoked his cigar, which is a blend of Nicaraguan tobacco from different growing regions. A Corojo '99 wrapper covers a double binder of Corojo and criollo around filler tobacco from the country's three major growing regions, Jalapa, Condega and Estelí.
Comments
2 comment(s)
Ed Harvey — Auburn, WA, United States, — November 3, 2011 3:55am ET
---
audyaver — November 8, 2011 3:39pm ET
---
You must be logged in to post a comment.
Log In If You're Already Registered At Cigar Aficionado Online