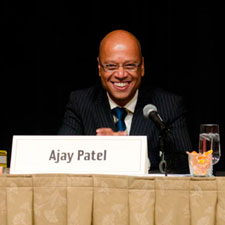 Photos by Sjodin Photography
Ajay Patel, proprietor of the United Kingdom's only Casa del Habano, Habanos S.A.'s official franchise for Cuban cigars.
2011 Big Smoke Saturday Seminars: An Insider's View of Cuba
(continued from page 2)
"The lucky people who bought the original Flor de Cano Short Churchill [which was conceived primarily for the Asian market] wound up with a massive return on investment. Now, they are one of the most sought-after vintage cigars and go for around £6,000 per box at auction," Patel added.
The panel then took questions from the audience, who were understandably hungry for knowledge on what is still a forbidden fruit to most cigar smokers. "We could probably spend the rest of the seminar taking questions about Cuban cigars," said Mott, "but we have to move on to the next panel."
So, the man from London packed up his Cuban cigars—and caught Savona jokingly trying to stuff a box of Dunhill Selección Supremas into his jacket.
Big Smoke Evenings
2011 Big Smoke Evenings, Las Vegas
Big Smoke Saturday Seminars
Top Three Legal Cigars of 2010 Tasting
An Insider's View of Cuba Today
Today's Hybrids: The Tobacco Used in Your Cigars
Size Matters
Lunch with Rocky Patel Premium Cigar Co.
Big Smoke Sunday Seminars
Breakfast with Charlie Palmer
Roll Your Own, Seminar No. 14
The Cognac Connection
Big Smoke Weekend Photo Gallery
Slideshow: 2011 Big Smoke Las Vegas Weekend
You must be logged in to post a comment.
Log In If You're Already Registered At Cigar Aficionado Online