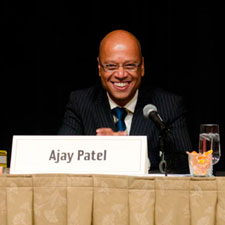 Photos by Sjodin Photography
Ajay Patel, proprietor of the United Kingdom's only Casa del Habano, Habanos S.A.'s official franchise for Cuban cigars.
2011 Big Smoke Saturday Seminars: An Insider's View of Cuba
(continued from page 1)
Mott spoke of the draw-testing machines, which were designed to gauge the airflow through a cigar before it is boxed and shipped. He recalls: "The draw-testing machines that we've seen in Havana, I saw for the first time in 1992 in the Dominican Republic at Tabacalera de Garcia. Marvin took a picture of the machine and he was almost tackled, told 'You can not take a picture of that machine, its top secret.' Well, today many factories around the world use that same machine and the Cubans say that every factory they have has a draw tester. Now, they're not draw-testing every single cigar, but they sample cigars coming off the benches."
And that notion has certainly been reflected in the Cigar Aficionado ratings.
"Over the past year we've rated 71 Cuban cigars with scores of 90 points or higher," said Savona. "Many of them with box dates from '08, '09 and '10. Current year production has exceptional quality these days."
This is also corroborated by the consistent increasing sales of Cuban cigars in the U.K. "We've been increasing 4 to 5 percent every year and the U.K. receives about four to six million sticks each year," said Patel. "It's a small number when compared to other parts of the world like, say, Spain, who gets between 45 to 50 million sticks per year, so there's a big difference between them and us, but we do get good quality Cuban cigars."
Ajay Patel gifting a vintage Montecristo No. 2 to a lucky audience member.
Patel mentioned how United Kingdom importer Hunters & Frankau opens and inspects every single box of cigars that comes in from Cuba. "Some people ask me for sealed boxes. You're not going to get them. Not in the U.K. market," said Patel.
Other highlights of the seminar included insights on Regional Edition Cuban cigars and how the U.K., in particular, has been allowed access to archived blending records in order to recreate retired flavor profiles for special smokes that only the U.K. will sell, such as the Flor de Cano Short Robusto and Por Larrañaga Magnifico.
"We see the new cigars in Cuba first," said Savona. "Habanos shows them off and they talk about them in February. The cigars trickle in to the market by Fall. Right now, basically all of the Edición Limitadas are here. So are some of the Regional Editions and a couple of the regular-production smokes as well, like the Partagás Serie E No. 2."
Mott returned the discussion to vintage cigars asking Patel for aging advice, reminding him that, culturally, cigars for the American market are ready to smoke off the shelf.
"A young cigar has ammonia that disappears with age," Patel said. "Cigars love dark places, but they must be stored properly. We keep them at 64 percent humidity and at 15 degrees centigrade."
Like wine, there is a large contingency around the world that purchases cigars for the sole reason of laying them down to rest and age. "Collectors buy these limited-edition cigars and they'll stick them away for five, ten, 15 years," said Mott.
You must be logged in to post a comment.
Log In If You're Already Registered At Cigar Aficionado Online