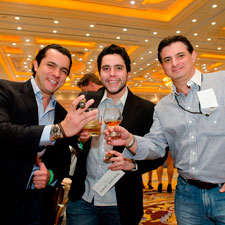 Photos by Sjodin Photography
Raphael Costa, Felipe Costa and Marcus Nosser sojourned from Brazil to smoke and drink.
2011 Big Smoke Evenings, Las Vegas
Andrew Nagy
Posted: November 1, 2011
(continued from page 1)
Cadillac displayed a diamond white colored CTS that caught the eyes of many attendees, as well as a xenon blue SRX.
While premium smokes and spirits may be enough for most, there was also a slew of cigars accessories makers at the parties.
Les Mann of Colibri could be seen educating folks about his company's lighters and cutters, Humidipak gave away large bags with its Bóveda humidification devices inside, Liebherr was displaying its refrigerated cigar humidors, Rabbit Air showed off its Minus A2 air purifier, and Lotus, Black Label and Vertigo shared a booth while showing off their respective cutters and lighters.
In addition, humidor maker Daniel Marshall showed off some of his gorgeous cigar humidors, while Diamond Crown had a few of its own humidors on display.
Rounding out the booths were good life product makers BIGHORN golf, which featured a putting green, and watchmakers Carl F. Bucherer, Oris, Tutima, Ulysse Nardin and Bulova.
Food also played a major role at the parties, with nine of Las Vegas' most well-known restaurants offering samples to hungry revelers.
Carnevino was serving up housemade pastrami that was topped with arugula salad and butternut squash. Tao brought a taste of the Orient with a ginger broth that had lobster and shrimp dumplings with shittake mushrooms in it.
Randy Fabry and Warren Connor display the cigar treats they found.
Lavo was sampling an almond and parmigiagno-reggiano with stuffed medjool dates, serrano prosciutto covered in a pomegranate balsamic. Texas de Brazil served churrasco-style flank steak with horseradish mashed potato in a chimichuri sauce.
Attendees visiting Valentino were served a sample of polpettona tacchino with polenta and marinara gravy, and for dessert, gelato flavors white chocolate, strawberry and mango on a cone.
French cafe Morels served cups of four-cheese macaroni with chopped smoked country ham, and Charlie Palmer's steakhouse offered braised short ribs with creamy polenta in a confit of tomato and black olive relish.
Comments
1 comment(s)
John Gersic — Frisco, Texas, USA, — November 1, 2011 9:41pm ET
---
You must be logged in to post a comment.
Log In If You're Already Registered At Cigar Aficionado Online