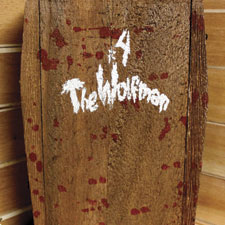 The Wolfman is a torpedo measuring 7 1/2 inches long by 52 ring gauge. It has a rough, uncut foot that exposes the filler tobacco, a first for the Tatuaje brand.
Tatuaje's Monster Series a 'Distribution Nightmare' for Creator
David Savona
Posted: October 17, 2011
(continued from page 1)
Havana Connections
Richmond, VA
Released in 2009, The Drac featured torpedos symbolizing the lengthy fangs of the most famous of vampires.
Casa de Montecristo
Countryside, IL
Rain City Cigars
Seattle, WA
Last year's The Face was a 6 3/8 inch by 56 cigar.
Castro's Back Room
Nashua, NH
Belle Meade Premium Cigars
Nashville, TN
Holt's Cigar Company
Philadelphia, PA
Tinder Box #208
Charlotte, NC
Monte's Pueblo Pipe Shop
Albuquerque,NM
Pheasant Cigars
Las Vegas, NV
Ruben's Smoke Stack
Hackensack, NJ
Just For Him
Springfield, MO
Good Karma Cigar
Amarillo, TX
Gloucester Street Cigars
Boston, MA
Comments
4 comment(s)
Kyle Trahan — Abbeville, LA, U.S.A., — October 18, 2011 9:06am ET
---
Christian A — October 18, 2011 12:35pm ET
---
J R — JERICHO, NY, UNITED STATES, — October 19, 2011 3:40pm ET
---
Float Dub — October 26, 2011 12:54pm ET
---
You must be logged in to post a comment.
Log In If You're Already Registered At Cigar Aficionado Online