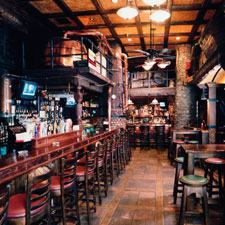 The cigar bar at Porter House is also an officially licensed Montecristo Lounge.
The Porter House, Northern New Jersey
Andrew Nagy
Posted: October 13, 2011
Stepping into The Porter House restaurant, I'm greeted by a hostess and the faint aroma of lit cigars permeating from somewhere within. A sign above a nearby set of closed oak doors proudly reads "Porter House Cigar Bar and Lounge"—the source of all the fun.
While the muffled sounds of music, conversation and televised sports beckon me from behind those doors, I remind myself that patience is a virtue and follow the hostess as she escorts my date and I down a hallway to the main dining room. Natural wood and earth tones dominate the interior, the warm light of pendant lamp fixtures softening the atmosphere.
The Porter House, located in the borough of Montvale in Bergen County (just minutes from the New York border), is billed as an Irish pub and steak house, but its menu offers much more. In addition to great cuts of beef, Chef Jay Lippin offers a selection of seafood dishes prepared with fresh, local ingredients.
The seasonal raw bar appetizers caught my eye, in particular, with Top Neck Clams, Boutique Oysters, Crab Martini and a Jumbo Shrimp cocktail. According to our server, the oyster lineup changes depending on what's fresh. When I visited, the choice was bivalves from Blue Point, New York and Malpeque Bay, Prince Edward Island. Other appetizers of note include carpaccio of beef prepared with a house sauce (all sauces and dressings are made in-house), mussels from Prince Edward Island, steak crostini and tuna tartar.
Other starters include a choice of fresh salads and soups, including a lobster bisque that was just perfect (or so my date said—she wouldn't let me try it). That was OK, though, as I was thoroughly enjoying my fresh mozzarella and tomato salad topped with roasted red peppers, garlic, olive oil and fresh basil.
The restaurant's wine list includes good values (a Bonterra Chardonnay for $30), to Joseph Phelps Cabernet Sauvignon and higher priced bottles such as Dominus 2006 and Château Margaux.
The impressive rotating beer list stood out to me. A smattering of standard international beers (Späten, Hoegaarden, Guinness) rounded out a great selection of American craft brews such as Troegs Dead Reckoning Porter, including the entire portfolio from the Defiant Brewery, located nearby in Pearl River, New York.
For entrees, I tackled the 24-ounce "T" bone with braised onions and mushrooms (which paired very well with the Troegs porter) while my date opted for the 12-ounce filet mignon. Both steaks were cooked beautifully and came with garlic mashed potatoes and steamed broccoli on the side, along with a homemade Bernaise cabernet sauce.
After we were sufficiently stuffed, our server brought out the drinks and desserts menu. As she walked us through the items, I couldn't help but remember that cigar bar sign I saw when I first walked in. We chose the red velvet cake and I asked for a peaty Arbeg 17-year-old Scotch. As I handed our server the menu, she asked if we would like to take our dessert and dinner in "the other room."
Walking back to the entrance of the restaurant, I saw that sign again and opened those doors, revealing a beautiful, all-wood Irish pub. Walking past the packed bar on my way to the "Members Only" lounge, I saw customers smoking cigars, while eating the same fare I enjoyed in the dining room.
Comments
7 comment(s)
Chris Moreno — Nanuet, New York, United States, — October 13, 2011 8:27pm ET
---
Al Bruckner — Astoria, NY, — October 13, 2011 9:42pm ET
---
Al Bruckner — Astoria, NY, — October 13, 2011 9:47pm ET
---
Chuck Gough — Wichita, Kansas, USA, — October 14, 2011 8:39am ET
---
Chris Kitchens — October 14, 2011 10:39am ET
---
Andrew Nagy — October 17, 2011 10:42am ET
---
Matt Morrissey — Northern New Jersey, USA, — October 25, 2011 4:10pm ET
---
You must be logged in to post a comment.
Log In If You're Already Registered At Cigar Aficionado Online