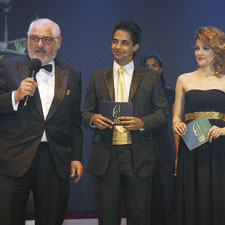 Marvin R. Shanken on stage at the 2011 Habanos Festival.
Cuba's Lavish Cigar Party
The Thirteenth Habanos Festival Featured the Debut of Several New Cigars
(continued from page 1)
After Shanken's speech, auctioneer Simon Chase went to the stage to begin an auction of seven humidors, each one decorated in the style of a prominent Cuban cigar brand. The pieces were enormous (the tallest, made for the brand Hoyo de Monterrey, stood more than six feet tall) and each contained hundreds of cigars, including many sizes that aren't part of the standard Habanos portfolio. The H. Upmann humidor, for example, included 50 cigars known as Butifarras, an old, ultra-fat perfecto shape from the pre-Revolution days better known as a Flying Pig. That humidor, which contained 275 other H. Upmann cigars, sold for 52,000 euros ($71,500). Several others sold for between 60,000 euros and 85,000 euros ($83,000 to $117,000) apiece.
Then came the Cohiba humidor, a curved, dark-wood humidor that stood more than four feet tall and contained 400 Cohiba cigars, including 45 of the Cohiba 1966 ELs and 90 Cohiba Behike BHK cigars, 30 of each size. The bidding immediately went to a different level, rising in tremendous leaps. José María Palacios Fernández of Spain's Altadis S.A. won the piece with a bid of 450,000 euros ($620,000). The entire auction raised 820,000 euros ($1.1 milllion) for the Cuban healthcare system.
You must be logged in to post a comment.
Log In If You're Already Registered At Cigar Aficionado Online