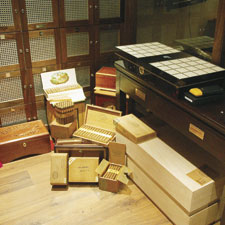 London's La Casa del Habano possesses the practially unattainable original black Cohiba Behike humidor.
Cuba's House
A look inside La Casa del Habano, the global chain of Cuban cigar stores
(continued from page 1)
Montreal's Casa del Habano has a gorgeous smoking lounge. It stocks Canada's Regional Edition for 2010, the Bolivar B2, which is shaped like a Montecristo No 2. The shop, run by Marc Melanfon, has a separate section for smokes with 10-plus years of age. Melanfon began putting older boxes aside about five years ago. He has old Sancho Panzas (the Sancho size, for example, a 9 1/4-inch "A" that's no longer made), Romeos, Vegas Robainas and the like. He cautions that you won't find thick ring gauges or the biggest brand names in the vintage section of his shop. "And if you do, run away," he advises, feeling the best will have been picked over.
Italy, once a terrible place to buy Cuban cigars because of limits on the type of cigar that could be imported, now is blessed with several go-to smokes. The Casa del Habano in Rome, run by Fausto Fincato,  has one of the most eye-popping Regional Edition cigars ever made, the Punch Diadema for 2009. These cigars, stretching more than nine inches long, with supple tapers (they are 55 ring gauge at their fattest point), come wrapped in gold-colored foil. The Casa del Habano in Rome also has older Regional Editions, such as the El Rey del Mundo Torpedo (from 2008) and a pair from 2005, the Punch Superfinos and the Ramon Allones Selección Suprema.
The Casa del Habano at the Jumeirah Beach Residence in Dubai (shown on previous page) stocks Cuba's special releases from the past decade right in the humidor. The huge shop and lounge (it consists of some 1,400 square feet) also has high-end cigar accessories.
The Casa del Habano in Zurich, Switzerland, is the domain of Samuel Menzi, a longtime cigar veteran. He has had that shop for some 17 years, and has sold cigars for 35 years. In October, Menzi had Switzerland's most recent Regional Edition smoke in stock, the El Rey del Mundo Elegantes 2010. This extra-long robusto (it has a plump 50 ring gauge) is relatively mild, according to Menzi, with a rich aroma. He also stocks older Swiss Regional Editions, such as the Punch Poderosos and Por Larrañaga Valiosos from 2009. His best seller is the Partagas Serie D No. 4.
The one thing Menzi does not have is vintage smokes. "No," says the old master with a throaty chuckle. "I sell them before they are too old."
Gregory Mottola contributed to this report.
Comments
1 comment(s)
Gary Bazdell — Ottawa, ON, Canada, — September 28, 2011 8:45pm ET
---
You must be logged in to post a comment.
Log In If You're Already Registered At Cigar Aficionado Online