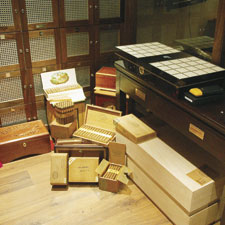 London's La Casa del Habano possesses the practially unattainable original black Cohiba Behike humidor.
Cuba's House
A look inside La Casa del Habano, the global chain of Cuban cigar stores
If you're in the market for rare and unusual Cuban smokes you need to seek out the official chain of worldwide Cuban cigar stores known as La Casa del Habano. Created 20 years ago in Cancún, Mexico, these stores (there were 135 at press time) are not only the first in their respective countries to receive Cuba's latest Edición Limitadas, they're the first to get special new smokes.
The Bolivar Gran Belicoso, the 2010 release of the Habanos Collection, presented in a box resembling a book, is exclusively available at La Casa del Habano stores. The same holds true for the La Gloria Cubana Inmensos and the Ramon Allones Allones Superior, which were both expected to debut around the time this issue is printed. The beautiful Partagas Salomon, Cigar Aficionado's No. 17 cigar of the year, began as a La Casa exclusive, and in October Cuba released the H. Upmann Noella (presented in old-fashioned glass amatista jars) strictly for sale at La Casas.
All Casa del Habano stores, which deal only in Cuban cigars, also stock Regional Edition smokes. These are unique smokes, made exclusively for individual countries or markets. The shops, which are franchises part-owned by the Cuban government, are also dependable sources for legitimate Havanas in a market beleaguered by counterfeits. While Casas del Habano are certainly not the only places to buy a fine Cuban smoke, in many tourist areas—especially Latin America and the Caribbean—they offer your best chance to avoid fakes.
To get a sense of what this singular resource has to offer, we perused the current stocks of many of the cigar world's finer Casas.
The Casa del Habano in Puerto Vallarta, Mexico, is run by Gerry Cohen, who always seems to have a smoke in his hand, very often a vintage cigar. "I smoke the humidor," he says. While he puffs current-production smokes for quality control, his choice for pleasure is an aged cigar, and his shop stocks vintage goods that he procures on a regular basis. At press time he had well-aged La Gloria Cubanas (in the Taino size, a Churchill, as well as the skinny and elegant Medaille d'Or No. 4); some old Vegueros Especiales No. 1 (an off-the-radar lancero that is being discontinued); and cabinets of aged Punch Churchills. He also had a piece of history: the original release Trinidad Fundadores from 1998. "My clients are not the typical cigar smoker," says Cohen. "A lot of them are collectors." Cohen has also been doing a solid business in Edición Limitadas, Montecristo Petit Edmundos and Cohiba Behikes.
The United Kingdom has many extensive Cuban cigar outlets, but only one Casa. Its location—about a half hour outside the city center of London—affords it the luxury of space. "We're the only cigar shop in England to have a cigar lounge downstairs," says Ajay Patel, who runs the store. As this issue was going to press, he still had stocks of the La Gloria Cubana Gloriosos, a 2008 Regional Edition cigar for the United Kingdom.
Called Reino Unido by the Cubans, it has the phrase Exclusivo Reino Unido on the secondary band that is on every Regional Edition. He was awaiting the arrival of the Por Larrañaga Regalias de Londres Regional Edition for the United Kingdom and by November expects to receive Flor de Cano Short Churchills, the reborn, regional version of the robusto-sized smoke that draws such interest at auction when an old box surfaces. As with most Cuban merchants, Patel has been doing a brisk business in Cohiba Behikes. "The BHKs are just flying out," he says.
When asked of his vintage smokes, Patel answers: "How long do you got?" His stock of old Hoyo de Monterrey Epicure No. 2s includes versions from the 1990s, 1980s and even the late 1970s. Patel boasted of having a box of Partagas cigars from 1968, Monte No. 2s from 1975 and Monte No. 4s from 1960. He also has a prized cabinet of 100 Partagas Dunhill Seleccion No. 777 from 1974 as well as a wide selection of rare Cuban humidors, including the Cohiba 40th Anniversary (shown on previous page), which contains the original 7 1/2-inch by 52-ring-gauge Cohiba Behike.
"I'm not just in the cigar business," says Patel, "I'm a cigar collector."
Christopher Wolters of the La Casa in Hamburg, Germany, boasts of his long experience with Havana smokes. "Having visited Cuba and all the cigar factories since the 1990s we know the Havana cigar trade from farm to factory," said Wolters, who is the man behind the rebirth of Cuba's Salomon shape (shown). He stocks vintage smokes, including collectable humidors, old limited editions (such as the Cohiba Pirámides Edición Limitada from 2006) and the commemorative humidor for Cuban music legend Compay Segundo, which contains 100 Montecristo B cigars, a recreation of a shape that was discontinued in the 1970s.
Comments
1 comment(s)
Gary Bazdell — Ottawa, ON, Canada, — September 28, 2011 8:45pm ET
---
You must be logged in to post a comment.
Log In If You're Already Registered At Cigar Aficionado Online