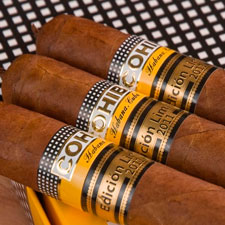 The Cuban Cohiba 1966 measures 6 1/2 inches long by 52 ring gauge and has a pigtail cap.
Cuban Cohiba 1966 Cigars Coming in "Days"
David Savona
Posted: September 14, 2011
The Cohiba 1966 Edición Limitada 2011, a dark, oily and powerful Cuban cigar that impressed in a preview tasting at the Habanos Festival in February, is finally ready for market. Habanos S.A., the global distributor of Cuban cigars, announced today that the cigar was coming to cigar shops in "days."
The cigar measures 6 1/2 inches long by 52 ring gauge and has a pigtail cap reminiscent of the Cohiba Behike BHK trio of cigars. The Cohiba 1966 is a size known in Cuban cigar factories as cañonazo especial. (The original Cuban cañonazo size is 5 7/8 by 52, has no pigtail, and originated in 2002 with the release of the Cohiba Siglo VI.)

Cohiba 1966 Edición Limitada 2011 cigars will come in wooden boxes of 10, surrounded by a colorful outer cardboard box emblazoned with the distinctive colors of the Cohiba brand.
The "Habanos" sticker appears on the upper right-hand corner of the outer box, with the Edición Limitadas sticker on the same corner of the inner box. As with all Edición Limitadas, the cigars come with two bands and contain two-year-old tobacco as well as wrappers that tend to be darker than those found on most Cuban cigars.
The Cuban Cohiba 1966 will come in boxes of 10.
I had a chance to smoke a pre-release version of the Cohiba 1966 in February. The Cohiba was one of several cigars passed out at the H. Upmann dinner early in the week of the Habanos Festival, and I found it to be the best cigar of the week. The big, dark smoke had a very oily wrapper, and provided very rich flavor, and was especially strong and hearty.
It remains to be seen if the regular production cigars can live up to the pre-release expectations. On a visit to El Laguito in February, I saw Cohiba 1966 cigars in the rolling room, and found out that the cigars smoked at the festival were rolled at El Laguito. I was told that the actual production cigars won't be rolled here, but elsewhere.

Cuba releases three Edición Limitadas a year. The other two are the Hoyo de Monterrey Short Hoyo Pirámides, a 5 3/8 inch long, 46 ring figurado that began shipping recently and is already in some stores, and the Ramon Allones Allones Extra, a 44 ring gauge cigar that's slightly longer than 5 5/8 inches that has yet to ship.

Look for the first blind tasting of the Cohiba 1966 in an upcoming issue of Cigar Insider.
Comments
7 comment(s)
Harold Lensen — Arnhem, Gelderland, Netherlands, — September 14, 2011 4:47pm ET
---
Lenny.Lara@att.net — September 14, 2011 11:27pm ET
---
Zdravko Brkic — Belgrade, Serbia, Serbia, — September 15, 2011 5:10am ET
---
David Savona — September 15, 2011 10:45am ET
---
Raphael Cervera — Miami, Fl, USA, — November 24, 2011 7:36pm ET
---
Josh Rehaluk — April 25, 2012 7:02pm ET
---
John Marshall — Prattville, Alabama, USA, — December 25, 2012 11:22am ET
---
You must be logged in to post a comment.
Log In If You're Already Registered At Cigar Aficionado Online