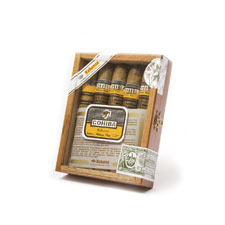 A version of the infamous and fake glass-top Cohiba.
Avoiding Counterfeit Cubans
Smoking a Cuban can be great, but lighting up a fake is the pits.
(continued from page 1)
Edición Limitadas are heavily counterfeited. The legit cigars are made in limited quantities, sell for a premium and are in high demand, making them ideal candidates for counterfeiters. Knowing your limited editions can help protect you from fakes. There is no such thing as a 2004 Cohiba Pirámide Edición Limitada (counterfeited on the opening page.) That particular cigar was a Limitada in 2001 and 2006.
Counterfeiters have also shown creativity in the cigars themselves. A common fake is a "Cuban" cigar wrapped with two intertwined wrapper leaves, one dark, the other light, in what's known colloquially as a barber-pole cigar. We've seen many of these sold in tourist areas, such as the cruise-ship row in Nassau, the Bahamas, where tourists pour off the boats flush with cash. No real Cuban cigar looks this way. In fact, most of the fake barber-pole smokes we have seen are clearly wrapped with some Connecticut-seed wrapper (the light) and probably a Mexican or Broadleaf wrapper (the dark). It's as far from a real Cuban as you can get.
Cigar bands are so typically misprinted—we've  seen poor coloring, missing information, even misspelled words—they should always be scrutinized to check for fakes. Also be sure to actually touch the bands—counterfeits seldom duplicate the embossing that gives most cigar bands texture.
Packaging is only part of the counterfeiting story. While fake packaging guarantees that you have a fake cigar, having the right bands, the right labels and stamps does not guarantee that your cigars are real. Get to know how a real Cuban cigar looks and feels. Familiarize yourself with the mounted head common to all Cuban parejos, know the oily sheen of good Cuban-seed wrapper leaf and recognize the typical gray ash of a Cuban cigar. If the wrapper is jet black, the head is round and the ash burns a brilliant white, you're not smoking Cuban tobacco.
Trust your sources. Know your cigars. And use common sense when buying. You can't buy a real Tag Heuer watch on the streets of New York for $20, and you can't get a box of Montecristo No. 2s on the beach in Varadero for $20 either.  v
Think you've been had? Visit our Counterfeit Gallery.
Comments
3 comment(s)
John Annessa — November 23, 2011 4:42pm ET
---
Ray Chandler — South Bend, IN, USA, — December 27, 2011 10:32pm ET
---
skklbonin@msn.com — January 29, 2012 2:13am ET
---
You must be logged in to post a comment.
Log In If You're Already Registered At Cigar Aficionado Online