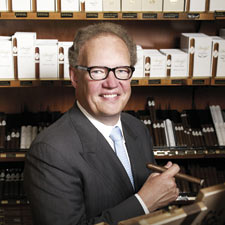 Hoejsgaard, 53, has a strong background in luxury goods and comes from a Danish family that once sold tobacco products.
A Conversation with Hans-Kristian Hoejsgaard
President and CEO of Davidoff
(continued from page 5)
Q: Does Davidoff have a branded chewing tobacco or snuff?
A: We do not.
Q: What's the biggest challenge that faces Davidoff right now? What do you see that worries you?
A: It's clearly that Davidoff has to put more firepower in the United States. We have a unique opportunity, it's still the world's largest cigar market, and it's still the only market where our main competitor, Cuba the country, is not here. And it's only a matter of time before that changes, and we really need to build our position to be stronger for that day.
Q: The original Davidoff cigar was a Cuban cigar. That ended, of course. Do you think there can ever be the day where there is another Cuban Davidoff cigar?
A: Absolutely. If one would like to characterize the embargo lifting as a risk for other brands, there is also a great opportunity. We would be looking to return as well. It's something I can assure you that the family is dreaming could happen. That is definitely an opportunity to look at. I don't think it's a matter of if, but when it happens. Not that we would abandon the Dominican, because we have an excellent product, but in this whole context of a port-
folio strategy it could be very interesting.
Q: Are there any Cuban Davidoffs left at Davidoff headquarters?
A: Yes. That was one of my gifts, a nice gift. We still have a few.
You must be logged in to post a comment.
Log In If You're Already Registered At Cigar Aficionado Online