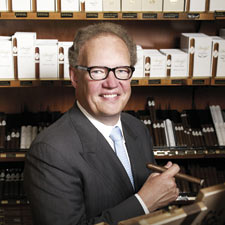 Hoejsgaard, 53, has a strong background in luxury goods and comes from a Danish family that once sold tobacco products.
A Conversation with Hans-Kristian Hoejsgaard
President and CEO of Davidoff
(continued from page 4)
Q: You'll be growing more in Yamasá? It takes awhile to get there, right? 
A: It sure does. It's a long haul, and there's still a lot to do, but it's very interesting.
Q: Do any other standard production cigars from Davidoff contain tobacco from Yamasá?
A: No. Whether it will always be like that, probably not, but for the moment it is.
Q: Is it strictly the wrapper, or is it also incorporated into the cigar?
A: It's also incorporated into the cigar.
Q: What new cigars do you have coming out this year?
A: We have developed two special cigars for the 100th anniversary, and they're very special, a pure, 100-percent Dominican cigar. Everything in the cigar is Dominican. And we are coming out with a toro limited edition for our own stores, and a robusto limited edition for our appointed merchants. Very exciting for us. On the 21st of June we have the official 100th anniversary, that's the 100th anniversary of the Geneva store, which was the start of Davidoff.
Q: So 100 years ago in June, Zino Davidoff opened the store in Geneva?
A: Zino's father [Henri Davidoff].  And Zino Davidoff said, 'We do not have customers, we have guests. You have to treat customers as guests in your house.' And that's what he did. It's about really being treated well. That's what we want to recreate in this new concept. And you have to be able to find something in these stores that you cannot find anywhere else.
Q: Can you give us an idea of some of the things one might expect when they visit the new concept store?
A: We haven't chosen the final agency yet, but it's very much about bringing the Davidoff philosophy from crop to shop. We don't give that experience in the store. I would like to actually bring Honduras or the Dominican Republic into the store, showing off all these things very few people actually see. A lot of multimedia, a lot of interactive technologies. It's all about experience.
Q: What's your opinion of smoking bans?
A: I think the smoking ban in this city has gone over the top. I think the park and beach ban is way above reason. Since the cigar business is so small compared with the cigarette business, we are very often treated the same way. It's a very difficult speech to make, but it's really something as an industry we have to try. For everyone you meet, cigars are something very different. It is pleasure, it is luxury. It's not addiction, it's not mechanical, it's a whole experience, and that's a message we have to get across. Can we get different regulations for cigars? We have to try. 
Q: Are there any places in Europe where the smoking bans are comparable to those in the United States?
A: Yes, France is very difficult. Holland. So we're definitely moving in that direction. There is no discussion of parks and beaches. The whole notion of smoking places, bars or lounges, has become very flexible. In Switzerland, you can buy a membership for $10 per year and go to 165 bars and restaurants and smoke. But the ex-monopoly countries are tough.
Q: Can we touch on the different businesses that represent the Davidoff group? We know the cigar business.
A: That's definitely the core business of the group. We also have a very significant business in Switzerland, which is Swiss-only, we distribute cigarettes, we are by far the leader in Switzerland in tobacco distribution. And then we have a very large confectionary chocolate distribution with it. We have 168 retail stores in Germany, tobacconists we swallowed over time. That's a platform for us to build our brands. Then there's a separate company, which has nothing to do with me, which has the licensing business: fragrances, Cognac, coffee and their own accessories line.
Q: And Davidoff cigarettes was sold?
A: That was sold. And I think again, from my perspective, a really good decision—we really are now a cigar company. Our company is dedicated to cigars.
You must be logged in to post a comment.
Log In If You're Already Registered At Cigar Aficionado Online