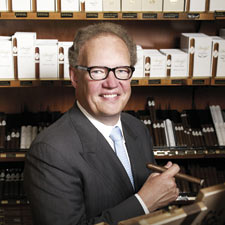 Hoejsgaard, 53, has a strong background in luxury goods and comes from a Danish family that once sold tobacco products.
A Conversation with Hans-Kristian Hoejsgaard
President and CEO of Davidoff
(continued from page 3)
Q: In your previous positions, did you incorporate companies that you acquired?
A: Yes. I have some experience there. I know that cultural integration is doomed to failure, you really have to understand that, the worst thing that can happen is if you try to absorb it and make it a copy of yourself.
Q: And this is still a work in progress, right?
A: Just five months prior to me joining, January 1 of this year, they all moved into the same building in Pinellas Park, Florida. Only in these last few weeks have we integrated the sales forces. We're trying to get everyone excited that they have become part of something larger. Everybody is coming together. It takes a little time.
Q: So the old headquarters of Davidoff in Stamford, Connecticut, is closed.
A: Yes, I think we still have two people sitting there for practical reasons until the end of the year.
Q: One of the things about Davidoff cigars that I found interesting was how they are made in the Dominican Republic, shipped in plain, big boxes to Connecticut, sorted and then packed into dress boxes. Will that continue, but in Florida?
A: Yes. It comes out of this rigorous devotion to quality. We have three warehouses around the world, and this procedure is happening in all three.
Q: And that's strictly for Davidoff white label.
A: Yes.
Q: And do you consider Puro d'Oro white label too, even though it doesn't have a white label?
A: It is you who call it white label, we don't. It's an American denomination.
Q: Ah, I didn't realize that. So there is no Davidoff white label program?
A: It's the Davidoff brand, and Puro d'Oro is the first one that doesn't carry the white label.
Q: Now this was done before your time, but what do you think about this? [Points to a Davidoff Puro d'Oro cigar, which has a golden foot band, without the Davidoff name.] It was very eye opening to me, the word "Davidoff" doesn't appear on the cigar at all.
A: As a marketing person, I'm not crazy about this. I'm more into the white label thinking, so I could easily see some brand identity case should be made in the years to come. [New cigars now] say Davidoff. Not on this one, but now printed in gold, very small, [will be the word] "Davidoff."
Q: How has the Winston Churchill brand been received?
A: The Winston Churchill line, I think it's fair to say, has been a struggle. I believe, and this was before me, there were some delivery and quality issues in the beginning, and as you know we only get one chance to make a first impression, so it was difficult to get back. Now we really have gotten over the infancy troubles, and we really think it has big,
big potential.
Q: You touched on stronger cigars a bit. But you also said American smokers like mild
cigars, based on your sales. Are we going to see additional stronger cigars out of Davidoff?
A: Yes, we will definitely see more of that. We will definitely see more tobacco from Yamasá [the town in the Dominican Republic where the Davidoff Puro d'Oro wrapper is grown].
You must be logged in to post a comment.
Log In If You're Already Registered At Cigar Aficionado Online