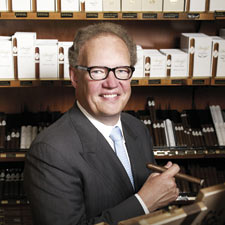 Hoejsgaard, 53, has a strong background in luxury goods and comes from a Danish family that once sold tobacco products.
A Conversation with Hans-Kristian Hoejsgaard
President and CEO of Davidoff
(continued from page 2)
Q: Of those 130 stores or so, how many have the name Davidoff?
A: If it was 65 company-owned stores, then those 65. Then we have in the U.S. 229
appointed merchants, so the Davidoff branding is very present, if not on the façade, then in the store. Plus we have 150 branded smoking lounges around the world. We will be rolling out a twenty-first-century new look of our stores. We hope to open the first prototype in December in the Zurich airport.
Q: Is there a name for it?
A: There is only a code name at this point.
Q: With your international background, is there something that you've found that fundamentally defines the American customer of a Davidoff cigar as opposed to a European or Asian customer.
A: Yes. The fundamental difference between the American Davidoff smoker and the European is that the American smoker likes the big sizes. And the [American] cigar smoker likes a milder taste, big but milder.
Q: So you think the U.S. smoker likes the milder cigar?
A: Yes, and that's a surprise to me.
Q: Going back to luxury—what has been the impact of the economy on Davidoff, which is a luxury brand?
A: We have to remember the very true saying, when times are tough we all have to tighten our belt, but there are some people who only have to tighten their alligator belt. Yes, '08 and '09 were certainly tough for Davidoff, but comparatively it was not so bad. And 2010 we were back to pre-'08 levels. What we did see, in our own stores, what we lost on the luxury end we were able to capture with Avo, The Griffin's.
Q: So you saw people moving down, Davidoff went to Avo, perhaps Avo went to The Griffin's.
A: Yes.
Q: What about accessories? Your accessories are wonderful, but they're also very pricey.
A: They're pricey. They suffered. Absolutely. Humidors, high-end lighters, humidors in particular.
Q: Are there any signs of life in humidors and pricey accessories?
A: I was just in the store today and a guy walked in and walks out with a $7,000 humidor. But this is anecdotal. It is coming back, but I wouldn't say with a lot of life. We have to reassess that whole area. A Davidoff humidor is for life. How many lives do you have?
Q: Let's talk about the differences among some of the new family members, if you would, Camacho and Cusano. Can you speak about what each one adds?
A: It's two very, very good family members. Camacho in particular. I see tremendous opportunities. The big role for me is to bring that success outside the United States. Cusano is, from a brand perspective, much weaker, it's almost a private label in many ways. But I see it playing more of a role where we can do interesting things in more price-sensitive segments.
Q: Compared with the Davidoff brand, what is the international reach of Camacho and Cusano?
A: They're really in their infancy. I see a lot more to do there.
You must be logged in to post a comment.
Log In If You're Already Registered At Cigar Aficionado Online