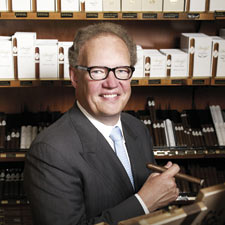 Hoejsgaard, 53, has a strong background in luxury goods and comes from a Danish family that once sold tobacco products.
A Conversation with Hans-Kristian Hoejsgaard
President and CEO of Davidoff
(continued from page 1)
Q: And from Seagram, where did you go next?
A: I went to LVMH, but in the perfume business. I was in Hong Kong, then I moved to Paris with Coty, which had the license for Davidoff fragrances. So it's sort of coming full circle. And I met Dr. [Ernst] Schneider [the late owner of Davidoff] several times for the fragrance discussions. I was extremely touched and honored when I started [at Davidoff] on my first day in the job. They came and gave me, which is a big deal in Switzerland, Dr. Schneider's number plate for my new car.
Q: Is that like a license plate?
A: Yes.
Q: Very nice. So this luxury brand experience must translate well to Davidoff.
A: We really need to be very clear on the fact that we are in the luxury goods business, and Davidoff really is the brand on a global scale. I always think that Davidoff the brand is competing against Cuba the country. And I think it's very important that we understand that, and take a brand building approach. Obviously Davidoff for me is the epitome of buying authenticity, rarity and quality, and I think those three pillars really epitomize Davidoff. I think we have an unbelievable opportunity to leverage that and build it further in existing markets as well as emerging markets. Taste you can never discuss, it's a personal matter, but you can recognize consistency and quality of taste. I think that is really a hallmark, which makes loyal customers, coming back again and again to the brand.
Q: Let's talk about your products. What needs to be done to keep people coming back to the Davidoff brand?
A: I think the Davidoff history, and also the brands we have acquired, like Camacho and Cusano, are basically family brands. They even have their blood in it. Whenever a company, whether it's Christian Dior in fashion or Davidoff in cigars, when the people with the names on the brand are no longer here, it calls for a transformation. And me, I have to be very conscious of understanding the history, but not be a prisoner of it, and really take the brand to the next level. And therefore the policy is very much about getting that global consistency. We need to transform from smoking, per se, to this world of pleasure, celebration of moments and bringing new customers to the brand. I'm fascinated, particularly here in the U.S., that the growth driver is really these 30-to-35 year old guys who have never smoked a cigarette. I was in the Champagne business for many years. The French, when they celebrate something, they use that word Champagne. I would love that to be Davidoff.
Q: So you want Davidoff to be that celebratory thing, pop open the cork on Champagne, light up a Davidoff.
A: Yes. It's luxury, but it's affordable luxury. It's certainly something everyone can do once in awhile.
Q: Let's talk about consistency.
A: Oh, it is a very consistent product. No question about it. When I look at customer complaints or returns there are almost none.
And I don't want to talk down, but in our stores we sell all manner of brands, and that's not always the case. The consistency of quality and [Davidoff cigar blender] Henke Kelner is very strong, and that's definitely not something that has to be fixed. What I think is interesting from the product side, we can really go into new areas. Puro d'Oro clearly is something very different from a Davidoff perspective. As far as I can see, for the first time we have really managed to come out with a cigar that has moved people, not just Davidoff smokers.
Q: Puro d'Oro is very different from the standard Davidoff.
A: It's hardly any cannibalization. It's for people who have not looked at Davidoff before.
Q: Let's talk about the stores. Davidoff has company-owned stores, as well as licensed stores. What's the split?
A: We are 65 flagship stores around the world, and it's about half and half.
Q: So a similar number of franchised stores?
A: Yes.
You must be logged in to post a comment.
Log In If You're Already Registered At Cigar Aficionado Online