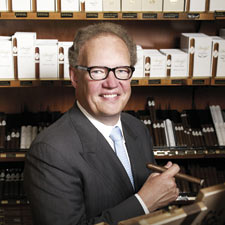 Hoejsgaard, 53, has a strong background in luxury goods and comes from a Danish family that once sold tobacco products.
A Conversation with Hans-Kristian Hoejsgaard
President and CEO of Davidoff
As the storied Davidoff brand celebrated its 100th anniversary this past June, it was also welcoming its first chief executive officer, Hans-Kristian Hoejsgaard, to take the helm without rising through the ranks of the company. Henri Davidoff started Davidoff as a shop in Geneva and titled it with his surname. His son, Zino, brought the shop to fame, and from that cornerstone the brand was expanded to include a worldwide chain of stores as well as its cigar lines.
Today, Davidoff is one of the cigar world's best-known brands, and unlike virtually every other non-Cuban cigar brand, Davidoff's international reach far exceeds its presence in the United States, which is itself considerable. Davidoff cigars are the backbone brands of the Oettinger Davidoff Group of Basel, Switzerland.
Before starting his tenure as president and chief executive officer of the company in April, Hoejsgaard, 53, had a strong background in luxury goods and had come from a Danish family that once sold tobacco products. On the eve of Davidoff's centennial, the new CEO spoke with senior editor David Savona and associate editor Greg Mottola at the Cigar Aficionado offices in New York City to discuss his strategy for moving Davidoff forward.
Cigar Aficionado: So you are brand new to Davidoff.
Hoejsgaard: I am brand new to Davidoff, but it's an interesting homecoming. I'm third-generation in a tobacco family in my native Denmark, from a distribution perspective. I've never smoked cigarettes in my life, but I smoked cigars from a very young age. And I was also the president, in the late '90s, early 2000s, of Coty, which has the Davidoff fragrance line, still does. So I feel very good about coming full circle.
Q: Let's start by talking about the family tobacco business.
A: My sister and I were the third generation in Denmark's largest independent distributor of cigars and pipe tobacco. And we also had our own pipe production. So tobacco has always been part of my growing up. I worked my way up from a sales rep to all sorts of interesting positions in purchasing and marketing.
Q: Did that take you on any travels?
A: It did. It was not a lot, but I did visit [the growing regions in] Connecticut in the late 1970s, early '80s. And it took me on a lot of travels in this country, for we had a nice business. But European distribution in tobacco was not really the future at that time. I had always wanted to go international with my career, and I joined Seagram. So I spent the following eight years there. We actually, with the Martell Cognac brand, had distribution of Cuban cigars. When Seagram acquired Martell Cognac in 1989, we also had distribution of Cuban cigars all over Asia.
Q: Interesting, I did not know that. How long did you do that?
A: I left in 1993.
Q: Was Martell still distributing Cuban cigars?
A: Yes we were. They don't do it anymore, I don't know when they lost it.
Q: And I'm sure you had to sample the product, for research.
A: Absolutely. I've always smoked Davidoffs and Cubans.
Q: So were you doing business with Habanos?
A: Not me personally, no. I was the head of marketing for French products, which meant Cognac, but I never met the Cubans.
You must be logged in to post a comment.
Log In If You're Already Registered At Cigar Aficionado Online