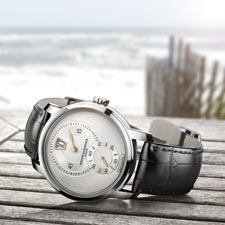 Classima Jump Hour
The Best Watches of 2011
Elegant styling, profound complications and tributes to classic models mark our annual best-in-show top-10 list of wristwatches.
(continued from page 2)
The Golden Bridge, so completely elegant in its transparency and so difficult to achieve, was resuscitated several years ago and now plays a central role at the brand today. Combining traditional watchmaking with both classic and new materials, Corum writes a new chapter in its history as the first baguette movement with a tourbillon (released last year) and, unbelievably, with automatic winding—which was this year's big introduction.
With every detail visible through the sapphire crystal case, the main challenge, explained CEO Antonio Calce, was in keeping with the linear motif of the movement while adding a self-winding mechanism. "To keep the movement's design pure, the unique solution was to invent linear winding," he said. Calce cited three main challenges: winding capacity, the oscillating weight's mass and, naturally, friction. "We tried 10 different material combinations before settling on cupro-beryllium and steel with a nickel-polytetra-fluoroethylene coating comparable to Teflon," he explained. The  result is a wondrously elegant movement—it seems to float on air caught between two panes of sapphire crystal—that does not look as if it could support all the mechanical functions it does.
It is for the moment available in a limited production of 130 pieces in rose gold ($42,000) and 70 pieces in white gold ($44,000). The svelte case comes across in a very masculine manner, measuring 37.2 x 51.8 mm.

Patek Philippe Ref. 5235
To represent the slew of lovely watches Patek Philippe has brought out in 2011, many of which are highly demanding pieces of complicated horology, we pick the brand's first regulator wristwatch. This is a dial style that enjoys popularity among connoisseurs: it separates out the hours, minutes and seconds to make reading the time more precise once the wearer has gotten used that presentation.
This automatic 40.5-mm white-gold wristwatch—one of the larger Patek Philippes—also contains an annual calendar. If you own a typical mechanical watch with a date function, you will have noticed that at the end of months with fewer than 31 days a manual adjustment is required. The perpetual calendar function, which adjusts for the length of the month automatically, is a very high complication that is pricey and can become a pain to set if you don't wear it every day. The annual calendar is the perfect in-between solution. Not nearly as pricey as a perpetual calendar, it still recognizes all the months but February, leaving you with only one date adjustment in a year.
The biggest advancement of this watch is, however, its hacking-seconds function. This very practical little addition allows the owner to set the watch to the second. Pulling out the crown stops the timekeeping. This is very important to a regulator where the seconds display is literally in the spotlight. ($51,000)
Rolex Oyster Explorer II
The original Explorer model from the 1950s was named for the world of exploration. Today, Rolex retains three well-known explorers as ambassadors to underscore the association.
Rolex introduced the Explorer II in 1971, an upgraded version of the original Explorer model. Sometimes viewed by consumers as the redheaded stepchild, its precision, robustness, power reserve and styling were enhanced at this point—these are the kinds of details that Rolex is consistently advancing rather than making groundbreaking announcements and continuously designing new models. One of the boosts was to chronometer-certify the model, meaning to have it certified by an independent Swiss entity called the C.O.S.C. (Contrôle Official Suisse de Chronomètres) to stay within a certain chronometric range: the average daily rate of a mechanical chronometer must remain within –4 and +6 seconds a day. Year for year, Rolex remains one of the leaders in earning C.O.S.C. certificates for its watches. All chronometer-certified Rolex models bear this fact emblazoned across their dials.
This year's relaunch of the Explorer II is only the third change to the watch since 1971. Perhaps the biggest new element to this model is the buffed-up 42-mm stainless steel case size, making it the third largest watch in Rolex's entire collection. This fact alone is destined to please a great deal of sports watch fans as it definitely makes it more contemporary in styling.
You must be logged in to post a comment.
Log In If You're Already Registered At Cigar Aficionado Online