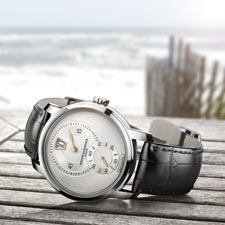 Classima Jump Hour
The Best Watches of 2011
Elegant styling, profound complications and tributes to classic models mark our annual best-in-show top-10 list of wristwatches.
(continued from page 1)
The Galet Micro-rotor Entre-Ponts can be purchased for $52,000 in rose gold and $53,500 in white gold.
HD3 Slydeu
One of the challenges that looms for manufacturers is that the younger generations don't generally wear watches nor see them as an expression of taste. The attitude seems to be: why bother strapping something to your wrist if you already have the time displayed on your mobile phone?
One of HD3's three founders—well-known industrial designer Jorg Hysek—has come up with the answer by approaching timekeeping in the same way that all technology is approached these days.
Welcome to the era of the Slyde. This fine watch is not mechanical and actually functions much like an iPod on the wrist: not only does it tell the time in a variety of selectable ways, it can also store pictures and other data. It is operated in a user-friendly manner with the same sort of touch screen available on many electronic devices today.
While some components are derived from fine watchmaking (the tactile sapphire crystal covering the screen and water-resistance to a depth of 30 meters) others are in sharp contrast, which is part of the extreme allure. The owner can connect the Slyde to the Internet for recharging and downloading customized modules. All technology inherent to the Slyde and its electronic movement is internationally patented.
Retaining the essence of what makes a fine watch tick—namely the ability to create and transmit emotion—the Slyde's sizable, no-frills case measuring 47.71 x 57.84 mm is available in black or gray titanium and rose gold with power reserve lighting reminiscent of a laptop on the side of the case. Its straps can be had in a choice of leather, printed alligator skin or rubber. Prices range between $6,895 and $48,000, depending on the case material and diamond setting.
The underlying principle of the smartphone with a tactile screen brings watchmaking into the 21st century—and perhaps into the hearts and minds of young technophiles: it does raise pure emotion. And it comes with a charger.

Corum Golden Bridge Automatic
Corum's Golden Bridge is one of the watch industry's all-time classics. First released in 1980, it was immediately hailed as an innovative work of horological art thanks to visuals that went far off the norm yet remained elegant and wearable. This year it took a step further.
Aside from the inventive baton movement designed by master watchmaker and cofounder of the A.H.C.I. (Académie Horlogère des Créateurs Indépendants/Horological Academy of Independent Creators) Vincent Calabrese, the case of the original Golden Bridge comprised two hand-faceted sapphire crystals held together by four golden screws and two bases of yellow gold. Thirty-one years ago, some of the greatest difficulties posed by its manufacture were polishing of the intricately shaped crystals and drilling them with precision.
You must be logged in to post a comment.
Log In If You're Already Registered At Cigar Aficionado Online