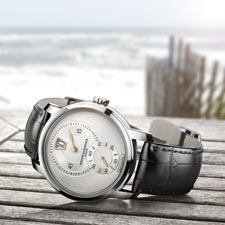 Classima Jump Hour
The Best Watches of 2011
Elegant styling, profound complications and tributes to classic models mark our annual best-in-show top-10 list of wristwatches.
With optimism exuding from the big brands, and a slew of new consumer-friendly watches as well as more boutique brands joining the market, 2011 proved to be a year of watchmaking creativity with a distinct leaning toward classic looks. Our survey of Switzerland's annual watch fairs produced a top-10 list that should captivate collectors and connoisseurs.
Perennial favorites such as Rolex and Patek Philippe delight the observer with a host of new models. Baume & Mercier and Vacheron Constantin unveiled rare complications. TAG Heuer and Rolex paid homage to earlier watches. Corum made an automatic version of its classic Golden Bridge. In all, 2011 has shaped into a banner year for watchmaking with a few surprises in store for the observant consumer—including the nomination of the first nonmechanical watch for Cigar Aficionado's "Best in Show." Have a look at the next generation of fine watchmaking.
Baume & Mercier:
Classima Jump Hour
When the head of IWC Georges Kern added a second Richemont Group brand, Baume & Mercier, to his responsibilities, he brought his love of telling stories through the collections in his charge. So the existing model families at Baume & Mercier have now been streamlined and revamped. Each chapter of the brand's new story adds up to represent "Hamptons" lifestyle.
The Classima line now contains some absolutely beautiful examples of classic watchmaking that are outfitted with smaller complications, such as this jump-hour model. Its moniker comes from the hour display in a small window at the 12 o'clock position that jumps forward at the top of every hour. A relatively rare complication, it is an eye-pleaser despite its unfamiliar dial approach, which sees all three displays (hours, minutes, seconds) separated.
The complication is clothed in a completely classic case and dial. The barleycorn, guilloché-style stamped dial harmonizes perfectly with the numeral font chosen and the gold color of the hands, minute and second markers, as well as the frame around the jump hour window. Combined with the convenience of the automatic movement, it perfectly embodies the current trend toward understated luxury while standing out in a crowd.
A limited edition of 500 pieces in a 42-mm stainless steel case, the Classima Jump Hour retails for $5,400.
Laurent Ferrier
Galet Micro-rotor Entre-Pontst
Monsieur Laurent Ferrier has turned into the pundits' choice—an insider tip for the aficionado. Placing extreme emphasis on the quality of the horology inside, Laurent Ferrier's technical delicacies are clothed in extremely conservative dress, destined to keep them in style for as long as watchmaking continues to exist.
Critics—if Laurent Ferrier had any—might call this boring, but it is really nothing other than simply beautiful. The new Galet Micro-rotor Entre-Ponts, for example, is housed in an 18-karat white- or red-gold case, wonderfully sized at 40 mm, which is certainly destined to become the new classic dimension. The silver or slate-gray dial classically offsets the case, and the slender assegai-shaped hands are unobtrusive, yet very legibly display the time without obstruction or ambiguity.
However, the element that really sets collectors' hearts soaring is found underneath the hood in the beautifully designed movement: the placement of two large stabilizing bridges that are decorated with côtes de Genève reveal only two elements—two that deserve to be highlighted. A gold micro rotor efficiently and stably winds the movement automatically and a new escapement style containing new materials keeps the time. Though the double direct-impulse escapement contains silicon elements, its inspiration was found in the work of Louis-Abraham Breguet, perhaps the standard among classic watchmakers.
You must be logged in to post a comment.
Log In If You're Already Registered At Cigar Aficionado Online