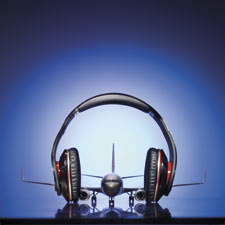 Stay Sane on the Plane
Our guide to taking the edge off the many hours of cramped airplane time with a trove of portable tech—from noise-cancelling headphones to super laptops to e-books and gaming—will keep you sane on the plane.
(continued from page 3)
Vuzix Wrap 920
All right, I have to say up front that it takes a certain self-confidence to look cool while wearing the Vuzix 920 video glasses. The look is wrap-around sunglasses à la Arnold in the first Terminator movie. But with a wire dangling off one side of the glasses and a pair of ear buds inserted, you are inevitably letting your geek flag fly with these perched on your nose. On the other hand, you get to watch whatever you like in perfect privacy, a significant benefit. Surely I'm not alone in feeling uncomfortable watching an R-rated movie on a packed flight, or sharing home videos and photos with the stranger in the next seat. Well, for $350, Vuzix will gladly deliver a hefty helping of personal privacy. And with two screens positioned close to your eyes, the image is like watching a big-screen TV from across the room.

Out of the box, the Vuzix 920 comes with a standard audio-video connector (for use with a portable DVD player, for example) and an iPod/iPhone/iPad connector. If you'd like to view your laptop screen, you'll need a $50 optional adapter.
The glasses are powered by two AA batteries (they last about six hours). They're reasonably comfortable, though eyeglass wearers may find the fit less than ideal. Fortunately, you can adjust the focus point through a wide range of settings. I use strong reading glasses, but I was able to watch glasses-free after tweaking the focus, and you only have to do it once (unless you're sharing, of course).
The Vuzix experience still has some rough spots. The image you see is pretty good, but it's in 4:3 format rather than the widescreen 16:9 used for movie discs, and limited to 640 x 480 resolution—fine for standard-def TV, but not sharp enough to read text from your computer, where airborne privacy would be especially welcome. The glasses are heavier than regular eyeglasses, a fact that becomes more noticeable the longer you wear them. And a wireless version would certainly be a big improvement. Even with these shortcomings, though, if I'm trying to decide what kind of movies I'd like to watch while flying, the option to choose Bonnie and Clyde, or even Hot Tub Time Machine, without permanently scarring the little kid in the middle seat has definite value.
Portable Chargers
No matter how carefully you choose your portable digital companions, you're going to run out of battery power at some point. And if you forget to charge your phone before leaving home, you could have a real problem on your hands when you land. The solution? A portable battery charger.
Basically we're talking about an external battery you charge and toss into your traveling bag. When one of your digital devices dies of electron deprivation, you simply connect the portable charger and use it as an immediate power source or to recharge the device for later use. You don't have to worry about constantly topping up the battery—they'll hold a charge for months if not used. Do the smart thing once and you're protected for a good long time.
Portable chargers come in many shapes and sizes, to meet different power needs. I always have a small one in my bag, since I run a smartphone with wonderful features but battery life that may or may not last through a long day. The goBAT II from Scosche Industries ($89.99) offers a nice balance between size and capacity, with the option to charge two devices at once and the higher-than-usual 2.1-amp capability required for an iPad. At roughly 3 x 5 x 0.6 inches, though, it's a bit large to carry in a pocket.
For both smaller and larger challenges, Energizer  offers a range of choices, from pocket-size phone chargers starting at $20 through a $180 laptop charger, including models designed for digital cameras and portable gaming devices. The Scosche charger uses the USB charging cables provided with your portable device. Energizer's has a charging cable and a selection of tips to connect to a variety of models. Finding the right connection is easier than it used to be, since most phones now use standard micro-USB ports and many other devices rely on mini-USB. If you have a more obscure connector, though, Energizer promises to send you the appropriate tip adapter at no charge.
Steve Morgenstern is a contributing editor for Cigar Aficionado.
You must be logged in to post a comment.
Log In If You're Already Registered At Cigar Aficionado Online