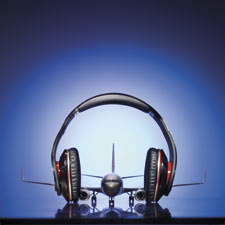 Stay Sane on the Plane
Our guide to taking the edge off the many hours of cramped airplane time with a trove of portable tech—from noise-cancelling headphones to super laptops to e-books and gaming—will keep you sane on the plane.
(continued from page 1)
Ultraportable Laptops
The older I get, the lighter my laptop computers become. It's partly that my loathing for lugging increases with age—a six-pound laptop starts to feel like an anvil when I'm racing from meeting to meeting across town. It's partly the hassle of pulling the thing out of your bag at airport security. And happily, it's partly thanks to laptop design improvements that have produced ultraportables with none of the significant compromises of a few years ago, and at reasonable prices.
The goal here is a machine that weighs in at about three pounds. That used to mean sacrificing screen size, but not anymore—I can get a perfectly workable 13-inch display in this weight class. Another point of pain for ultraportables was the keyboard, but comfy choices are now available. Processing power? You'll find the same speedy processors in today's ultraportables as in far bulkier laptops. And while most ultraportables still ship without DVD drives, fine choices in my weight class now accept DVDs for movie watching and software installation.
I have two machines to recommend here, one pricey, one surprisingly inexpensive, both delivering the core characteristics outlined above.
We'll start with the high-priced spread, Sony's top-of-the-line Vaio Z series. These tricked-out machines, with lightweight aluminum and carbon fiber chassis, start at $1,970. You're not investing in silly features or twee design, though: you're getting performance that will hold up to all your computing challenges, including tough stuff like editing video and playing games, in a perfectly portable 2.5-pound package. Instead of a built-in DVD or Blu-ray drive, the Z series comes standard with an external Power Media Dock that combines an optical disc drive with souped-up graphics, three USB ports and HDMI for connecting to a high-def TV. Speedy Intel i5 and i7 processors are available, along with solid-state drives that combine ruggedness with low power consumption. And speaking of power, the Vaio Z series delivers an estimated eight hours of battery life on a charge. Add a slender sheet battery to the bottom and you're up to 16 hours, which should handle even the most migraine-inducing ground delay.
If the Vaio sounds a little rich for your blood, take a look at the Toshiba Portégé R830, with prices starting at a very reasonable $899.
At that price the Toshiba runs a slightly slower Intel Core i3 processor. With a lower-resolution screen and a less powerful graphics system, these laptops are targeted at business users, though they're still fine for watching DVDs or downloaded movies. The entry-level configuration also comes with a standard hard disk drive, though solid-state drives and faster processors are available in step-up models. Beyond these few spec differences, and the more eye-catching style of the Vaio versus the corporate-looking Toshiba design, the two laptops are quite similar. The Portégé weighs in at a featherweight 3.2 pounds, with a durable magnesium alloy case, a built-in DVD drive and a claimed nine hours of battery life. Given the price/performance combination, this is a breakthrough machine.
Of course, having a laptop aloft is even more appealing if you're on one of the 1,000+ planes equipped with the Gogo Inflight Internet service from Aircell. Seven domestic airlines have partnered with Gogo;  AirTran, Delta and Virgin America have their entire domestic fleet equipped for Wi-Fi. There are pricing plans based on flight length and others based on days of service, outlined at the gogoinflight.com website —a coast-to-coast flight runs $12.95, for example. For international service, check with your individual carrier.
Nintendo 3DS
Yes, cell phone games are ever-more sophisticated, and there's no arguing the addictive quality of those Angry Birds, but if you're looking for hours rather than minutes of entertainment, a handheld game console is still a much better choice, if only for the far more precise and sophisticated controls.
You must be logged in to post a comment.
Log In If You're Already Registered At Cigar Aficionado Online