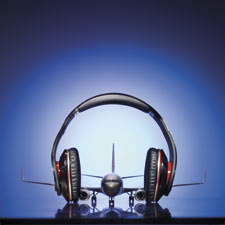 Stay Sane on the Plane
Our guide to taking the edge off the many hours of cramped airplane time with a trove of portable tech—from noise-cancelling headphones to super laptops to e-books and gaming—will keep you sane on the plane.
You're about to spend an eternity in a cramped seat sealed in an aluminum tube suspended at 30,000 feet. It's going to take some serious electronics to help you ignore the screaming kid three rows back, the smell of the takeout garlic and cheese pasta the woman across the aisle brought on board and the insistent shoulder-to-shoulder pressure from the fat guy in the next seat over. Here are some first-class products to help you cope with coach.
Noise-Cancelling Headphones
You don't realize just how noisy it is inside a plane until you put on a good pair of noise-cancelling headphones and hear the nagging thrum-thrum fade away, and the music or movie you're listening to come through loud and clear. I generally leave the noise-cancelling cans on even when I'm not listening to anything at all—the relative quiet makes a long trip less stressful.
Bose has been making noise-cancelling headphones since 1989, and the QuietComfort 15 model ($299.95) clearly demonstrates the lessons learned in more than two decades of fine-tuning the tech. Powered by a single AA battery (much more convenient than the rechargeable battery in the previous model), the QuietComfort 15s do an exceptional job eliminating background noise without turning music to mush.
You get nice crisp highs, accurate midrange and convincing bass. Particular improvement is noticeable over conventional headphones or ear buds in vocals and movie dialog. The nicely padded cups fit around your ears, fulfilling the comfort promise in the product name. And while the headphones will take up some room in your carry-on, the ear cups swivel to lie flat with the headband, a worthwhile space-saving strategy.
A more recent entrant in the high-end noise-cancelling headphone arena, Monster Cable's Beats by Dr. Dre Studio ($350) is a collaborative effort by the cable manufacturer and the famed hip-hop star. Everything about the Beats is big. They're physically large, with a wide headband and solid construction throughout. The sound is big too, in marked contrast to the more restrained Bose audio.
For one thing, they play louder with the same input. The QuietComforts aren't pip-squeaks by any means, but the Beats can really assault the eardrums if that's your style. The sound profile is quite different too. Where the Bose model maintains a balanced sound, the Beats play favorites with certain instruments. Anything with a strong bass line really gains drama, and drums step right to the front of the stage. All in all, I found the Beats really pump up the impact of instrumental music—anything from jazz to orchestral tracks—along with rock and, yes, hip-hop.
For softer guitar and vocal sounds, and movie dialog, I favor the Bose sound. One feature that might sway you toward the Monster phones: they come with two cables, one straight audio, one with a mic and control button for use with a cell phone. Unfortunately, the ear cups don't fold flat like the Bose design, so you'll need even more carry-on space.
Finally, for those who like to pack light, I recently discovered a terrific set of noise-cancelling ear buds that now come along for the ride whenever I jump on the commuter train or subway. The Phiaton PS 20 NC ($129) consists of a pair of ear buds and a cylindrical case housing the noise-cancelling circuitry and a AA battery. The buds themselves are nicely designed, with an off-center tip that fits in your ear canal and a disc base that rests outside—I found they fit comfortably and don't feel like they're about to touch my brain, like some in-ear buds.
There's enough bass so that you won't feel thump-deprived and very pleasing reproduction of strummed guitar and vocals. I spent several hours in a row recently listening to an audiobook using these, and from street to noisy subway platform to quiet hotel lobby it was an excellent experience. What's more, unlike the full-size phones described above, the Phiatons still let you listen if your battery runs out of juice, albeit without the noise cancellation benefit.
You must be logged in to post a comment.
Log In If You're Already Registered At Cigar Aficionado Online