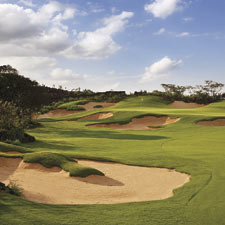 The Lava Fields course highlights the volcanic rock that lies underneath all the courses at Hainan with the volcanic outcroppings running right up to the fairways and rough around the course.
China's Big Break
The Mission Hills Hainan complex is part of a golf revolution on the island that could eventually lead to 100 courses there
(continued from page 2)
Another course unlike any visitors will have seen is stunning Lava Fields, which has some of its bunkers filled with imported black sand. Instead of contrast, this course has jaw dropping visual homogeneity of blackness and will be unique in the golf world. The Pete Dye–themed course, Stone Quarry, takes Dye's occasional use of old railroad cars as bridges to a new level, with coal cars, tracks and abandoned mining equipment alongside 215 bunkers. Nothing here is done on a small scale, and these are courses worth seeing and playing.
On the downside, it is a long way to travel, but on the upside, when you get here you will find a lot of excellent golf. The quality easily rivals most major resorts, the quantity is unheard of and the landscape is one of a kind. Mission Hills Hainan makes sense for a weeklong stand-alone golf trip. Instead of trying to find fun in Haikou, the better strategy would be to explore whichever hub city you change planes in, Hong Kong, Beijing, Shanghai, Hanoi or Singapore, and make this leg of the trip all about the resort.
With the amazing spa and variety of restaurants, even non-golfing spouses will not mind being sequestered here. Or, as Passov suggests, Hainan can be combined with a traditional trip to China's fabled Great Wall, Forbidden City and other marquee sights. Another vacation strategy for die-hard golfers would be to visit both Mission Hills, because if you are going to see and play the world's largest golf resort, it becomes pretty easy to jump on a plane in Shenzhen or Hong Kong for the less-than-two-hour flight to Hainan. Call this full 22-course experience the Mission Hills Grand Tour, and be the first on your block to complete it.
Larry Olmsted is a Cigar Aficionado contributing editor.
You must be logged in to post a comment.
Log In If You're Already Registered At Cigar Aficionado Online