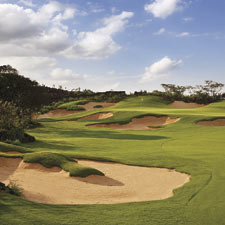 The Lava Fields course highlights the volcanic rock that lies underneath all the courses at Hainan with the volcanic outcroppings running right up to the fairways and rough around the course.
China's Big Break
The Mission Hills Hainan complex is part of a golf revolution on the island that could eventually lead to 100 courses there
(continued from page 1)
Mission Hills Hainan held its grand opening last March, and the facilities are new and sparkling. There are now 10 courses open, the first luxury hotel (more planned) has 560-rooms, and the resort features a dozen restaurants, a luxury shopping arcade and an enormous, opulent clubhouse. Like Shenzhen's, it is modeled on Florida's TPC Sawgrass and packed with golf collectibles, including signed Master's and Major flags going back decades, trophies and endless photos of the world's great courses. Tiger Woods warrants his own wall of fame. The hotel has an indoor pool complex, foot reflexology center, billiards and mah-jongg rooms, and an elaborate kids club. An enormous pool complex with sandy "beach," a lazy river pool and twin erupting volcanoes seems straight off the Las Vegas strip. A lavish and elaborate "spa village" next to the hotel features over 100 individual thermal mineral pools fed by the volcanic island's underground hot springs and dozens of open air treatment villas. The spa alone is as big as many hotels and Mission Hills Hainan eclipses every U.S. golf resort in scale.
The official line is that the resort will have "only" 10 courses, but while the Chus are coy about their plans, the fact that everyone involved keeps calling it phase one suggests more to come. So do maps of the master plan, which show the entire current resort occupying less than half the allotted land. During my visit I heard this repeatedly referred to as Mission Hills Hainan North, and saw a map with an equally large Mission Hills Hainan South adjoining it. Brian Curley says, "We have room here in the North for 12, 13, maybe 14 courses. Then there is talk of Hainan South, another similar sized project, just conception." Ken Chu says, "It's tough to give an exact number. As the government's initiative keeps growing the tourism infrastructure here, it keeps growing our potential."
The Financial Times reported that the Chus have amassed more than 30 square miles of land, or about 20,000 acres, considerably larger than Manhattan. From my hotel window on a high floor, I could literally see golf holes under construction stretching to the far horizon. The Financial Times also reported that the resort has 22 courses planned, while the Foreign Affairs Office put the "rumored" total at 30. Given that before Mission Hills Shenzhen nobody had ever built more than eight in one place, and five was considered an enormous golf resort, any of these estimates are staggering and unprecedented. Mission Hills Hainan could be two to three times the size of its sibling, now the world's largest.
Since any more courses are a long way off, the pressing question right now becomes, is Mission Hills Hainan worth visiting?
Like its predecessor, the facilities are first rate, and just weeks after opening the hotel, food and amenities were ready for prime time. One other attraction is value: the average room rate in high season is less than $200 per night. The finish and design is flush with wood and marble and fresh flowers, the rooms are state of the art with large walk-in showers and oversized soaking tubs, on par with any Four Seasons or Ritz-Carlton, and the overall effect is more intimate and resort-like than the Shenzhen resort, which has a bit of a convention feel. While the original Mission Hills has the air of a massive golf club with hotels as amenities, Hainan is exactly the opposite. No discerning traveler would be disappointed in the food, service or lodging, and while the atmosphere is exotic enough to be interesting, menus are in English, more than enough staffers are multi-lingual to make the resort easy to navigate and, overall, it is very welcoming.
The rest of Hainan is a bit of a different story. Very little English-speaking tourism exists here, nearby Haikou is a relatively unattractive city and the visitor infrastructure, much of it new, is geared towards Asians and Russians—outside the resort you are far more likely to find menus in Cyrillic than English. There are beaches, but once you leave Mission Hills, you are highly unlikely to mistake Hainan for Hawaii. The most desirable tourist areas are on the south coast, near Sonya, three hours away.
So if you go, you go for the golf, which is very good. Instead of a theme based on designers, like the original Mission Hills, the concept at Hainan is one of thematic architectural styles, with one course evoking the Golden Age of American design, an homage to Seth Raynor, C.B. MacDonald and A.W. Tillinghast. Another is based on Melbourne's famed Sandbelt courses.
Another recalls classic U.S. parkland designs, complete with Oakmont Church Pews bunker. There is even a Pete Dye homage, but all are originals, not hole-by-hole copies or "tribute" courses. The courses really succeed in capturing their respective aesthetics, and the Golden-Age version is a perfect example, with square greens borrowed from Raynor's Yeamans Hall, the classically shaped bunkers emulating the work of horses and plows, and even the wicker flagpole baskets of Merion. The variety is endless and the design differences between the courses obvious, but so are their similarities, in the form of black lava rock—lots of black lava rock. No one here seems overly concerned with the inevitable issue of running out of architectural styles because the real theme, the thing that sets the golf here apart, is volcanic Hainan itself.
The entire site was a black lava field, which is impossible to hide, and the golf courses have been built at great effort and expense. As Ken Chu noted after just six courses were finished, "Every piece of grass you see here was brought in. Building on top of black lava is very expensive. Our total construction budget for Shenzhen was $600 million, and we have already exceeded that here. The total will probably be three or four times that." That's billions, with a "b," of dollars' worth of golf.
"It's not Bandon Dunes or Sand Hills," says Brian Curley. "The bad news is that all the rock makes it difficult to build and that's why it's never been developed. The good news is that it's never been developed—or farmed. You just can't touch farmland in China, it is off limits. But Haikou is just a few miles away, coming up on 3 million people, twice the size of San Francisco, a mini–Hong Kong in the making. You could never find a piece of land this size within 15 minutes of a major downtown anywhere else in the world. In other cities, this resort would be two hours away. No one else had the guts to build a resort like this on top of all this rock, but Mission Hills dreamed it, dared it and did it."
This is not the first golf resort to build through black lava fields—Hawaii's Hualalai comes to mind—but it is the most dramatic. "The lava influence is both memorable and distinctive," says Passov. Stunning black lava is everywhere, starkly contrasting the gleaming white bunker sand, bright green grass and omnipresent blue skies. At times of day when the temperature changes quickly, the lava rocks release moisture, natural smoke machines that create an eerie effect as if the golf courses were on fire. While black lava alongside the fairway may take some of the authenticity out of the parkland or Melbourne designs, it is stunning nonetheless and makes the golf here special.
Blackstone is the marquee course and tournament venue, which will alternate with Mission Hills Shenzhen in hosting the Omega event. At 7,808 yards and par 73, it is a long, tough and stunning course routed through the lava, true eye candy—and for almost every visitor, unlike anything they have ever played. Fingers of trees and black stone jut into the fairways and stands of old lychee trees were preserved wherever they were found. There are even old stone ruins throughout the course, though no one knows who built them. Brian Curley loves walking, and went so far as to carve elaborate paths with steps and walls through the lava fields between tees and fairways and from greens to tees. Even if you like to walk, you probably have never given much thought to the walk itself. Blackstone will change that, and here the walking becomes as much a part of the experience as the Pacific Ocean is at Pebble Beach. This is so dramatic that it is arguably the best walking course ever built.
You must be logged in to post a comment.
Log In If You're Already Registered At Cigar Aficionado Online