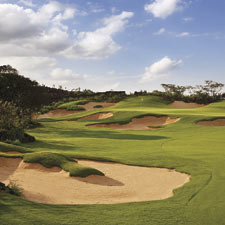 The Lava Fields course highlights the volcanic rock that lies underneath all the courses at Hainan with the volcanic outcroppings running right up to the fairways and rough around the course.
China's Big Break
The Mission Hills Hainan complex is part of a golf revolution on the island that could eventually lead to 100 courses there
If bigger is better, then biggest must be best. At least that's the logic of Dr. David Chu and his children, a clan that is transforming the landscape of golf in China and, increasingly, on the global level as well.
For an impressive first act, the Chus built the world's largest golf resort, Mission Hills, which they then parlayed into a luxury brand name that carries enormous clout with Asian consumers. But their encore is even more ambitious. The Chus are leading a charge to turn a tropical island in the South China Sea—an island few Americans have ever even heard of—into the world's No. 1 hotbed of golf, on such a grand scale as to rival Scotland or Ireland as a vacation destination. You might just want to start applying for your Chinese visa, because their newest resort could make the 216-hole Mission Hills Shenzhen look quaint by comparison.
The original Mission Hills in Shenzhen, just outside Hong Kong, entered the Guinness World Records book as the planet's largest golf resort after opening its 10th course, passing Pinehurst, North Carolina, the longtime record holder, by 36-holes. Mission Hills has since opened two more courses, bringing its tally to an even dozen, all in one massive resort complex, offering more golf than world- class destinations Pebble Beach, Bandon Dunes and Kohler—combined! Its success inspired the Chus to create Mission Hills Hainan.
Often called China's Hawaii, Hainan is a large island just off China's south coast, the nation's southernmost point. It is China's smallest province, and also the newest, separating from Guangdong in 1988. The Hawaii comparison isn't exact; Hainan is larger than any of the Hawaiian islands and apart from the newly opened golf courses, the tourism infrastructure is still in its early stages of development, even though millions of visitors come each year. Its largest city, Haikou, has a population more than twice the size of the 50th State. Like Hawaii in the1980s, Hainan is experiencing an economic boom and land rush, with buyers mostly from China, Hong Kong, Vietnam, Korea, Malaysia and Russia buying up new beachfront luxury condos faster than they can be built. Stories of mainland Chinese walking into sales offices and buying half a dozen condos at a time, paid for with shopping bags full of cash, are not apocryphal, but routine.
One reason for the popularity is Hainan's uniqueness in the region. Rather than "China's Hawaii," it might be fairer to call it "China's Hawaii, Florida, Southern California and Caribbean." China lacks warm weather beaches, and its major cities are bitterly cold in winter, like their Russian and Japanese counterparts, which is why Hainan is so appealing. It is a short, easy flight from almost anywhere in the Pacific Rim, with two major international airports and last year, while Hawaii received 6.5 million tourists, Hainan got 20 million. But the latest fuel for development was a decision by the Chinese government, effective December 31, 2009, to designate Hainan as a special economic zone for tourism development. In bureaucratic speak, that essentially waives roadblocks to development, like zoning and permits, and the result has been something of a Wild West gold rush. As part of this tourism initiative, the government proclaimed golf as Hainan's official provincial sport.
"If you look at it in a vacuum, and imagine that 10 years ago somebody said 'the next big golf boom will be on China's Hainan Island,' we'd have said they were crazy," says Joe Passov, Golf Architecture and Course Ratings Editor for Golf Magazine. "China has this Texas way of thinking, bigger is better, but even by China standards the scope of what is going on in Hainan is mind-boggling. Building is fast and furious and on such a grand scale. There's another big development on the island; Clearwater Bay is just a couple of hours away from Mission Hills, and Morgan Stanley Asia invested $20 billion.
They have one course, a second almost done and a third planned. There are also two Tom Weiskopf courses on Hainan, Bill Coore is building a course there, it's unbelievable." Other designers currently working on the island include Jack Nicklaus, Greg Norman, Tom Doak, Robert Trent Jones, Jr. and Peter Thomson. "The market is totally dead in the U.S. right now," says golf journalist Michael Patrick Shiels, author of The Works of Art, about prominent designer Arthur Hills. "Hills' firm has no projects at home right now, not a single one, but they are busy in China. If you are a golf course designer and you are not working in China, you are not working."
One of the first to realize and capitalize on China's potential was Schmidt-Curley Design from Arizona, Mission Hills' go-to builder for all of its 22 courses in Shenzhen and Hainan. The firm was the first to open an office on Hainan. Schmidt-Curley also designed the Clearwater Bay course here and has several others in various stages of development around Hainan. "There are at least 25 courses on the island right now," says Brian Curley, but that is changing almost monthly. Last January, the Foreign Affairs Office of Hainan Province described a "100-course future for the island," noting in a press release that given the current boom, this future could "soon become a reality."
"China is the biggest thing happening right now in the world," says Passov, "and I absolutely think it is for real. The government was not too fond of golf, but now that it is going to be in the Olympics, they have gotten behind it. The newly middle- and upper-class Chinese who now travel elsewhere will stay home and other folks in the region, from Australia and other Asian countries, who want the biggest and the best, will go there. The quality stands up well, and Mission Hills Hainan's tournament course will stand with the best in Asia. For tourists, the level of hospitality has soared, there are good hotels getting it right. I could totally see combining a week of sightseeing in Northern China with a weeklong golf vacation in the South." By the South, he means Hainan Island.
While China's tourism initiative has certainly spurred growth, the current boom precedes it by a few years and can be traced to the Chus' arrival. "We realized the potential for tourism in this province and planned the project years ago. The new government policy just came last year. With or without the new government policy, the impact of Mission Hills will continue to spur other development around us," says Ken Chu, Dr. Chu's son and Vice Chairman of Mission Hills Group. "Since we began working on this project, other people have been buying up land and prices have increased three to four times, just since we started. A property outside our gate was auctioned off for the highest price ever paid in China."
You must be logged in to post a comment.
Log In If You're Already Registered At Cigar Aficionado Online