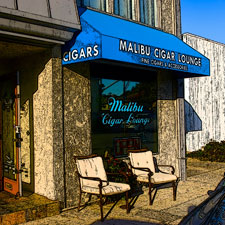 A posterized image of the front entrance of the shop.
Malibu Cigar Lounge, Pacific Coast Highway
"Carmageddon" aside, if you know anything about getting home to Ventura County from the west side of Los Angeles around 4 p.m., you know that you're often better off taking the Pacific Coast Highway. And on those days that even this route is badly congested, you would be well advised to take a break. Pull over at the Malibu Cigar Lounge right there across from Carbon Beach.  

The owner, Rick Loehr, will likely be there, looking all surfer-dude and entertaining his visitors with tales of the softball team's latest game, interrupting only to grab a smoke for someone new or to ring up a purchase. (You can gauge if the shop's not too busy—a rare occurrence—if Rick is lounging on a chair on the sidewalk, face up to the sun.)

Malibu Cigar Lounge has all the requisite stuff. Large-screen TVs, music, a poker game on Fridays (invitation only) and a massage therapist on Thursdays. (A what?)
For a buck a minute, September Edwards, the masseuse, will put you in her chair and dig her elbows into places across your back you didn't know were in such need. While she doesn't recommend it, September doesn't mind if you smoke while she's working on you. (She prefers Montecristo white labels herself.) The ol' rub and puff. What better way to relax after sitting in traffic?

Yeah, all the usual cigar lounge stuff. But you're in Malibu, so sitting on the overstuffed leather couch next to you might be the guy who wrote "The Jerk" regaling the gang with showbiz stories. Or Gary Busey might drop by.
"I call it 'bums to billionaires,'" Loehr explained, referring to the lounge's clientele, but not specifying who is which.

Malibu Cigar Lounge is relatively small, but stocks a great selection, including, from a quick recon, the complete Tatuaje line.
Loehr, a native New Yorker turned Californian, is a musician who was in the spirits and wine business before he bought the shop nearly two years ago, remodeled it and hung art from local painters and photographers.
Posterized portraits of regulars from photographer Kimball Hall line the walls in the front room just below the ceiling.

Malibu Cigar Lounge is a great improvement over the previous cigar shop. Loehr says he wants to expand the space to include a patio in the back.

For now, Malibu Cigar Lounge is just the perfect place to enjoy a cigar during another day in paradise. And, when the highway is a parking lot.

Malibu Cigar Lounge
22525 Pacific Coast Highway
Malibu, CA 90265-5810
(310) 456-8324
www.malibucigar.net
Monday - Saturday: 11 a.m.-7 p.m.
Sunday: 11 a.m. - 5 p.m.
You must be logged in to post a comment.
Log in if you're already registered.
---
---
Search our database of more than 17,000 cigar tasting notes by score, brand, country, size, price range, year, wrapper and more, plus add your favorites to your Personal Humidor.
---
---