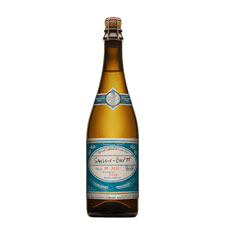 Boulevard Brewing's Saison-Brett comes in 750 ml bottles.
Kick Off Your Summer with Saison
(continued from page 1)
The wild yeast was added after bottling, so the longer the brew rests, the more Brett character will come through. Interestingly enough, Pauwels says that if the brew rests long enough, the hop characteristics return to the beer.
We found the beer brought out earthy, spicy notes of the Illusione 888, however, medium-body cigars overwhelmed the brew.
Grand Saison Farmhouse Ale is available now in 750 ml. bottles in Arizona, California, Colorado, Idaho, Illinois, Kansas, Massachusetts, Minnesota, Missouri, Montana, Nevada, North Dakota, South Carolina, South Dakota, Washington, Wisconsin and Wyoming.
Boulevard's Saison-Brett is available in 750 ml. bottles throughout the Midwest region, ranging from North Dakota down to Texas and as far east as Tennessee and parts of Alabama.
Grand Teton Grand Saison Farmhouse Ale ($9.99-$10.99, 7.5 percent alcohol by volume)
APPEARANCE: Clear golden liquid with a dense, rocky head and strong, frothy lacing.
AROMA: Fruits, in particular orange peel, lemon and other citrus.
PALATE: Starts with an herbal quality that turns to a sharp nuttiness resembling almonds and hazelnut at mid-palate with a slighty chewy finish.
Boulevard Brewing Saison-Brett ($11.99, 8.5 percent alcohol by volume)
APPEARANCE: Pale, slightly cloudy gold liquid with a greenish hue and a two-finger, retaining head and gorgeous lacing.
Comments
1 comment(s)
JESUS — CA, UNITED STATES, — July 1, 2011 4:21pm ET
---
You must be logged in to post a comment.
Log In If You're Already Registered At Cigar Aficionado Online