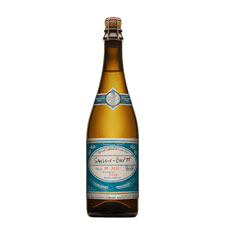 Boulevard Brewing's Saison-Brett comes in 750 ml bottles.
Kick Off Your Summer with Saison
Summer's here and so we thought it appropriate to explore a historical Belgian beer style that's gaining a reputation here in the United States as a quaffable, tasty thirst-quencher: saison. In particular, Grand Teton Brewing's Grand Saison Farmhouse Ale and Boulevard Brewing's Saison-Brett.
But what traditionally defines a beer as a saison? Is it color, ingredients or body?
"I don't think anyone really knows," says brewmaster Steven Pauwels, a Belgian from the small town of Eeklo, located to the east of Brugge, who now brews for Kansas City-based Boulevard Brewing.
The first Saisons were low-alcohol ales produced in pre-Industrial Revolution Belgium by farmer-brewers. Because portable water was not widely available, the farmers desired a low-alcohol beer that could keep workers hydrated during the summer harvest season. Refrigeration hadn't been invented yet, so these Saisons were brewed during the winter months using barley, wheat or whatever grain did not sell on the market that year as a base and then stored. Saisons had to be strong to survive the storing period and prevent spoilage, but not so strong that they would inebriate the workers. Therefore, the original saisons were hop-heavy libations.
Clearly, the traditions behind saison are not as binding as perhaps a stout or a pilsner, and the saisons from Grand Teton and Boulevard Brewing reflect the ingenuity brewers often bring to the style today.
Grand Teton Brewing, located in Idaho, opted to brew its Grand Saison Farmhouse Ale as part of it's Cellar Reserves Series. Four times a year the brewery "let's their brewers out of their cages," according to sales and marketing director Chuck Nowicki, to produce a limited run of special beers.
Nowicki says Teton's Grand Saison uses three hop varieties—Hallertauer Magnum, Styrian Goldings, and Strisselspalt—and a very light base malt accented by just a touch of Wheat and Munich malts. Over 20 different batches were made before the brewery's tasting panel could come to a consensus.
We found the style to be a good partner for mild-bodied smokes. Paired with an Ilusione 888 candela cigar, the smoke played well with the nutty flavors of the Teton Saison, establishing a sharper note of almonds and hazelnut.
With a more medium-body cigar, the pairing brought out the fruity aroma of the brew, with a distinct orange-peel note shining through.
Boulevard Brewing's Saison-Brett represents the ingenuity that U.S. brewers are known for throughout the world. Using the same recipe for it's Tank 7 Farmhouse Ale, Pauwels went a bit further by adding the wild yeast strand Brettanomyces. Feared by vintners for its ability to break down esters in alcohol and acids, Brettanomyces, or simply Brett, is often used by today's brewers who wish to purposefully "sour" their concoctions and add a bit of earthiness.
Comments
1 comment(s)
JESUS — CA, UNITED STATES, — July 1, 2011 4:21pm ET
---
You must be logged in to post a comment.
Log In If You're Already Registered At Cigar Aficionado Online