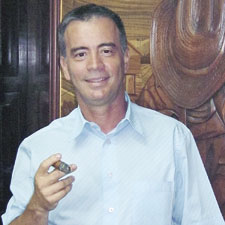 Maique, the new copresident of Habanos, has been working around tobacco since '87.
The Man Behind the Behike
After a career that began in the Habanos S.A. warehouses, Jorge Luís Fernández Maique has risen to share the copresidency of the joint Spanish-Cuban cigar company
(continued from page 2)
The primary goal of Habanos now, Maique asserts, is to maintain the quality of Cuba's tobacco and of its cigars. "We understand now that you have to increase quality, not quantity," Maique says. He adds that Cuba is keenly aware of its history and tradition and they were important assets, ones he says cannot be duplicated in the Dominican Republic or in Nicaragua.
In the end, Maique talks and acts like a man of tobacco. His foundation began in 1987, the year he joined what was then Cubatabaco. He worked in the warehouses in Havana and in Pinar del Río, where he first learned about quality control. Since he was a university graduate, he thought he knew tobacco because he had spent six weeks a year for three or four years in the fields, but he quickly learned that much about tobacco was still a mystery to him as people began talking about things such as different grades of leaves.
"They were talking a language I didn't understand," he says. He asked to be transferred to Pinar del Río, where he spent three years learning from the farmers. Included in that hands-on training was six months on the finca of Alejandro Robaina, the Cuban cigar tobacco master, where Maique did everything from leaf grading to leaf stripping. Finally, in 1991 and 1992, he returned to the commercial department in tobacco leaf development. He spent part of time in Havana and part of it at Lippoel Leaf, a big tobacco broker based in Europe.
But Maique says he had come to tobacco in part because of his love for chemistry, something that he studied as a young student, including winning a national competition on the subject.
"I think I love tobacco because there is a lot of chemistry in it," Maique explains.
Habanos and the world of cigar smokers are the ones benefiting from that love today.
You must be logged in to post a comment.
Log In If You're Already Registered At Cigar Aficionado Online