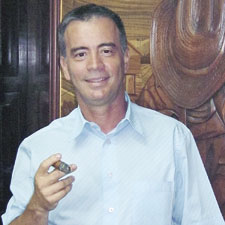 Maique, the new copresident of Habanos, has been working around tobacco since '87.
The Man Behind the Behike
After a career that began in the Habanos S.A. warehouses, Jorge Luís Fernández Maique has risen to share the copresidency of the joint Spanish-Cuban cigar company
(continued from page 1)
"I didn't do anything new. What I did was a copy," he says. He doesn't know why medio tiempo had fallen out of favor, but speculates it may have something to do with a kind of bias against pre-revolutionary techniques and of course, the difficulty in procuring it. "They called it cacho duro [a small, hard leaf] back then. So, it had been used before." He says no one knew if they had been using a whole leaf of medio tiempo, half a leaf or  even a quarter, but, "if they did it before, why can't we do it now?"
The Behike launch has been extremely successful, Maique says, and the market's response to it has been fantastic. "They love it. Everything is beautiful."
He says that the project has a lot of deserving mothers and fathers, like all successful launches, but he does consider it "my baby." But he adds that it came out of a process where people contributed lots of new ideas because Habanos was looking for something new. He says that's part of the reason for the unusually thick ring gauges for the three sizes of Behike: 52, 54 and 56.
For the time being, Maique says there will only be between 200,000 to 250,000 units produced of each Behike size each year. "Even 300,000 will be hard to reach because of the scarcity of raw material," he adds. And, he insists production will never exceed one million no matter what, because Habanos has seen the wisdom behind limiting production of a top-of-the-line cigar.
The Habanos copresident questions some of the criticism in recent years of Cuban cigar quality. He argues strongly that the most serious problems—tough draws in particular—are a thing of the past thanks to the draw machines in use in every Cuban cigar factory. He also argues that some of the complaints about how Cuban cigars aren't the same as in the past just don't hold water for him.
"Our palates are developing," Maique says. "Take a Montecristo No. 4. It is one of the best, one of my favorites. But if you go smoke a Cohiba Robusto, or Cohiba Siglo VI, and you come back to a Monte 4, it is not going to taste the same as before. You can't compare a Siglo VI with a Monte 4. Each is a wonderful cigar. But you can't compare them. They are not for the same moment."
He uses the example of a $100 bottle of wine and a $20 to $40 bottle of wine. "I know there is a difference between the two bottles. It's the same with cigars," he says.
One thing that Maique is certain about is the quality of the 2010-2011 Cuban tobacco crop, although he is still reserving final judgment. "When you ask a farmer about the crop he has in his barns, it is always the best crop he has ever had," Maique says with a smile. "But this year is a very good crop. We had some problems with irrigation and petrol, but it is good. Wrapper quality is very good."
He adds that tobacco inventories are very high right now too, with more than a two-year stock of filler tobacco. Combine that with the high-quality wrapper crop this year, and inventories of wrappers should be reaching the same levels. He says there was enough tobacco in inventory to maintain current production levels, but he declines to say how many cigars Habanos is going to produce this year.
The current seeds being used, Maique says, also are virtual copies of some old seeds known as Criollo and Corojo. He says the current seed varieties were the result of 10 years of cross-pollination in the fields, not genetic manipulation, but that today, they are virtually identical to the seeds which used to be planted in Cuba in the early 1990s.
You must be logged in to post a comment.
Log In If You're Already Registered At Cigar Aficionado Online