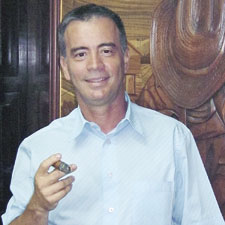 Maique, the new copresident of Habanos, has been working around tobacco since '87.
The Man Behind the Behike
After a career that began in the Habanos S.A. warehouses, Jorge Luís Fernández Maique has risen to share the copresidency of the joint Spanish-Cuban cigar company
By his own admission, Jorge Luís Fernández Maique says it's usually 9 or 10 p.m. before he gets up from his desk and heads home. Every day he is in meetings from early in the morning, and he rarely has time for a quiet lunch by himself. Granted, when he wants a cigar, he simply calls out to his secretary and she walks in with a tray of his favorites; he often picks up a Cohiba, usually a smaller Siglo size.
But he says his busy schedule keeps him from smoking as much as he used to in France, where he headed up the Habanos S.A. operation known as Coprova from 2001 to 2008. There, he says, he would often smoke five or six cigars a day. Now, he often only has time for one or two.
Maique, 47, whose name often sounds like "Mike" in rapid-fire Cuban Spanish, was named in February to replace Oscar Basulto in the Habanos co-presidency, an office created after the Spanish-French conglomerate Altadis S.A. acquired a 50 percent stake in the Cuban cigar monopoly in 2000. Basulto remains in the organization, but has returned to overseeing tobacco operations at Tabacuba, Cuba's main tobacco-growing institution. On the Spanish side, the Habanos copresident's chair is filled by Buenaventura Jiménez Sánchez-Cañete.
"It is a big responsibility," Maique says while smoking a Cohiba at Habanos headquarters in Havana. An unassuming man with almost visible kinetic energy in the way he talks and moves, he admits that the promotion took place very quickly. But it's easy to scope out why it has happened—he is completely at ease moving in an international arena, and his fluent English and French elevate him into a comfortable spokesperson for Habanos around the world. And then there is the reality of his role in the creation of the first ever Behike in 2006, and then the introduction of the Cohiba Behike BHK line in 2010: the BHK 52, BHK 54 and the BHK 56, one of the most successful brand launches in Habanos' history.
In legend, Behike was the name of a doctor or chieftain of the Tainos, the indigenous tribe of Cuba. The original Behike, the 40th anniversary of the Cohiba brand, was the first time the Behike name had been used on a cigar. Habanos made only 1,000 humidors, each containing 40 cigars, of the original Behike. In London today, those humidors have sold recently at auction for between $65,000 and $73,000, or more than $1,500 per cigar.
"We wanted to do something different. We wanted to create something that was the best," Maique says. He explains how the project began when he sent people out into the warehouses in Pinar del Río looking for old tobacco; they found some bales with three years plus age. "Some of them turned out to be good bales, and some didn't," he says, "but we kept the good ones for another two years."
With the success of the Cohiba Behike, the discussion continued about adding a permanent Behike line to the Cohiba brand. "We knew we couldn't just say it was the best of the best," Maique says. "We've been saying that for 50 years about Cohiba, that it was the selection of the selection. We had to find something new."
He recalls that when he worked in France, he was always explaining to people that Cuba had three main tobaccos in its cigars, the volado for combustion, the seco for aroma and ligero for power and strength. But when he researched tobacco that was used before the revolution, he came across notations for a fourth variety, medio tiempo, a smaller leaf that only appears rarely, and on the top priming of a tobacco plant.
"I said we could use a fourth leaf, the medio tiempo," Maique says. "And, when we asked ourselves what will medio tiempo mean in terms of the cigar? Character. It would be a new component that would add character."
Maique explains how over the years, medio tiempo leaves had fallen out of general use in Cuba, partly because they were rare, usually appearing on only 10 to 15 percent of tobacco plants in a field. He says in recent years such leaves often went into domestic production cigars. Now, they are being selected and kept aside and treated as a separate tobacco for the Behike line.
You must be logged in to post a comment.
Log In If You're Already Registered At Cigar Aficionado Online