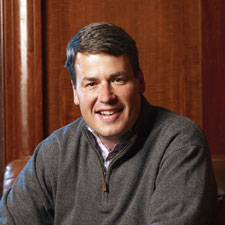 A Conversation with General Cigar's Dan Carr
(continued from page 5)
Q: Is your portfolio somewhat fluid then? You're putting new things in. Do you have to take things out every year?
A: We look both ways. If something isn't relevant it doesn't make sense to tie up capital and resources on it.
Q: Have you taken things out recently?
A: Yeah. We do it relatively quietly. We will always have the products available to the customer who wants it.
Q: You mean via a catalog?
A: No, we'll ship it to retail. If a retailer has a consumer and that's what they buy, we want to make sure we honor that. But we can.
Q: So what am I missing in the General Cigar story?
A: The one thing that I learned, business-wise, is you can have wonderful assets, but at the end of the day it's all about the people. Through different things that the Cullmans have built, the legacy that they've brought to General Cigar over the 50 years, you complement that with the different acquisitions that we had, El Credito, the UST acquisition, which brought in Don Tomás and Helix, you take it into C.A.O. as well as Plasencia. We really have amassed some of the most talented and most experienced people in the cigar business, which makes my job extremely easy. If you look ahead and you say most of the challenges are behind us, but again we're in a challenging industry. This is where I'd want to place my bet. I'm very optimistic about the future. We can lead upon tobacco, cigar-making, cigar master, technology and research, even on how we plan the business. We want to make sure that we're helping our customers grow, and that we're introducing as many consumers as we can into the industry. Our portfolio competes on every price point, every flavor and every taste. And we think we can do even more with the brands.
General's Cigar Factories
General Cigar Dominicana
,
Santiago, Dominican Republic
Major brands made there: Macanudo, Partagas, Cohiba, La Gloria Cubana, Bolivar, Havana Honeys (flavored) and Flavours by C.A.O. (flavored)
Honduras American Tabaco S.A. (HATSA), Danlí, Honduras
Major brands made there: Punch, Hoyo de Monterrey, C.A.O. Brazilia, C.A.O. Lx2, C.A.O. Mx2, C.A.O. Italia, Don Tomás, Sancho Panza and Helix
Scandinavian Tobacco Group Estelí, Estelí, Nicaragua
Major brands made there: C.A.O. La Traviata, C.A.O. La Traviata Maduro, C.A.O. Gold and C.A.O. Cx2
You must be logged in to post a comment.
Log In If You're Already Registered At Cigar Aficionado Online