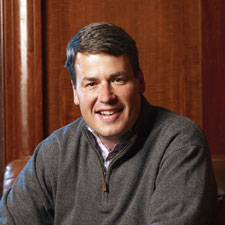 A Conversation with General Cigar's Dan Carr
(continued from page 4)
Q: You own fields there?
A: We own fields, but we haven't grown in Connecticut in a number of years.
Q: So General still owns fields, but the tobacco is grown by the Thrall family.
A: Yes. Our relationship with them goes way back.
Q: I've seen some of your warehouses. You have tremendous amounts of tobacco. Are there other varieties you haven't used, stuff we haven't seen before?
A: Absolutely. That's the fun part of the business. That's the library.
Q: What is that?
A: We have a library of different tobaccos that come from different regions, different areas. We can select from different parts of the library at different times to create different tastes, different blends. For a blender, they're like kids in a candy store.
Q: So what's your favorite cigar?
A: I get to smoke just about everything. I love anything with Ometepe in it. [General uses some tobacco from the Nicaraguan island of Ometepe in many of its brands, including Punch Upper Cut and Macanudo 1968.] I'm a big Macanudo 1968 fan. It depends on the day. It kind of makes the job fun. This is a funny industry. You do it all the time. It bleeds over into your personal life.
Q: Can you take me through the process of making a new cigar at General Cigar? How does it go from someone's mind to the consumer's hand?
A: I'll give you the short version. We have a whole innovation team. They meet quarterly. You'll have people from sales, marketing, leaf people, you'll have consumers, and we'll come up with ideas and concepts. And we'll put them out to consumers and test them. We've created over the last three years a whole consumer tasting group, which is in the thousands. This is another way for us to not only work internally with people who have been with us 45 years or more, but we also utilize consumers who are extremely passionate. We'll give them the same samples that we smoke. We might ask them how much would you pay for this? And we might go through 200 blends. It's a long process for us. We're only going to market with things that have been tested.
Q: Do all of your cigars go through such a lengthy process?
A: Yes. What we don't want to do is take up valuable shelf space of a customer with stuff that isn't going to work. We want to make sure we do our pre-work ahead of time.
Q: What do people want in a cigar today?
A: We think three things. The first one really is the consumer saying I want a well-balanced, flavorful, extremely well-constructed,  high-quality cigar at a great price. The second thing we're seeing is, the consumer today is looking for something new. With Mac Vintage, we put broadleaf on it, we put a metal ring on the cigar. We've been back-ordered on it. Hoyo Reposado is another way we've looked at the aging process, introducing cedar and doing a whole new experience for consumers. If you look at La Gloria Cubana, what's going on with the Serie N line, there's packaging and construction innovation. You take a look at those types of things and you start to try to match it to an occasion.
Q: In 1996, every new cigar seemed to be $10. The bargains were the old established brands. Today you're seeing lots of very interesting, superb cigars at a good price point. That's good for consumers, but not necessarily good for companies.
A: It's harder, because tobacco prices continue to go up. Given the inventory of tobaccos, the library of tobaccos, that we have enables us to make wonderful cigars at great price points, and we're going to match up to where the market is. And we're going to make sure where we see opportunities. We're not filling the market with something we already have. We're coming out with something that doesn't exist.
Q: Where do you find these niches? Cigar shops are crowded. Is it tough to get new cigars into cigar shops now?
A: Yes, at the last IPCPR [International Premium Cigar and Pipe Retailers trade show], if you took extensions and brands, there were a couple of hundred new items. And the average tobacconist carries 600 to 800 boxes. That's one-third new. What we've been trying to do is be very targeted and come in with things that have been tested. We're trying to come in with things that fit the consumer need or void.
You must be logged in to post a comment.
Log In If You're Already Registered At Cigar Aficionado Online