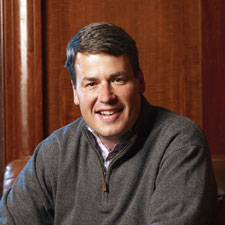 A Conversation with General Cigar's Dan Carr
(continued from page 3)
Q: What kind of changes have happened since the merger between Swedish Match and Scandinavian Tobacco?
A: I think when you get to the merger side of it, obviously for us we see enormous opportunity to make an even stronger premium cigar company. This is a very exciting time for us. The merger enables us to be a little more flexible when it comes to our goals, and what we want to achieve. It also enables us to get even more support, and that's both domestically and internationally. The other big thing is, when you look at it, it complements the portfolio. C.A.O. is a wonderful complement to the portfolio, and it's cared for by the largest and most innovative sales group out there. For us, it's exciting. The joint venture as a whole was really more focused on outside the U.S. than inside the U.S., but if you look, inside the U.S. is complemented in many ways. C.A.O. is a different brand profile, and it enables us to build on it.
Q: What has changed since the merger with C.A.O.?
A: For the consumer, nothing. Same cigars, same packaging, same everything. The nice thing about it is both companies have been involved in the cigar industry, so it's not like what took place was new. We shared a lot. We gained a lot of very good insight. Our approach is to really learn everything and realize we understand the brand as best that we can. You got to smoke them, taste the tobaccos, understand how they relate to one another. Obviously on the manufacturing process we're learning there as well.
Q: While the consumer won't see a difference, from a corporate standpoint you've moved the C.A.O. headquarters from Nashville to Richmond, and I saw you were making Flavours by C.A.O. in your factory—
A: In Santiago. Since the merger we've defined the overall organization, we basically centralized the corporate headquarters, as well as all the distribution, we integrated the C.A.O. portfolio, we established all the terms and sales for the combined entity. The nice thing about it is we stuck to our core values and are trying to give it as much respect as we can and did it as fast as we possibly could to have minimal disruption.
Q: The STG factory in Estelí is the first Nicaraguan factory for General Cigar. Any plans to make any other cigars there besides C.A.O.?
A: That's the beauty of the new setup. We kind of have a white piece of paper to figure out what we want to do. It gives us more flexibility to leverage the company. Right now we're integrating and that is complete. If you look at the joint venture activity, you had Scandinavian and Swedish Match coming together, which meant C.A.O. and General Cigar coming
together. And you combine that with our relationship with the Plasencia Family.
Q: Talk about the venture with Plasencia—what does that bring to the table?
A: We've had a very long relationship with the Plasencia family. We've procured leaf from them for many years. This helps secure that for the future. And it gives us the opportunity to work together. It'll happen over time.
Q: Describe what the joint venture does.
A: For the Plasencias nothing changes. It's a minority stake, we have 20 percent of the company. [Note: The deal was announced in March 2010, and closed later that year.] It lets us work together even closer. We do a lot of cultivating seeds, we get to share more with each other. It's all about collaboration.
Q: But you buy from other brokers as well?
A: Absolutely.
Q: How much do you spend on tobacco in
a year?
A: (Laughs.)
Q: It must be sobering.
A: For us it's not just the number. Because of our size, we're the first ones. We go in there, we look at the tobaccos, we taste the tobaccos, we select the tobaccos we pick the tobaccos. We're not just going in there buying a couple of bales. There's times we'll buy crops, there's times when we buy things to experiment. We have flexibility.
Q: And you have deep pockets.
A: Which helps us do that. The benefit to the consumer is we're bringing different things to the market. And again, if I'm one person, one brand, I can't go and travel around and look at things and try things—I have to make sure my business is running. We have some differences.
Q: You grow tobacco in Connecticut.
A: A.J. Thrall [a family of tobacco growers in Connecticut] does most of Connecticut.
You must be logged in to post a comment.
Log In If You're Already Registered At Cigar Aficionado Online