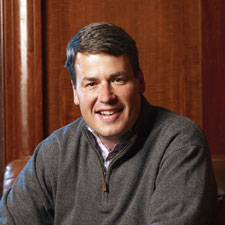 A Conversation with General Cigar's Dan Carr
(continued from page 2)
Q: In terms of impact on a cigar company, what's worse? Is a smoking ban worse than a dramatic tax increase?
A: Yes. I will tell you, bar none, bans are the worst for the industry, because you're taking away the occasion. It gets to a tipping point. Taxes, the economy, people can adjust. Bans are tough.
Q: How have people's buying habits changed?
A: We've seen the consumer trade down, we've seen them buy less cigars per occasion. But again, we've seen that changing.
Q: How are General's sales doing?
A: We're growing share. And the latest CAA [Cigar Association of America] data show the category was down 11 percent last year. Obviously we've done a lot better than that. And, again, our objective is to continue to make sure we're bringing the right tools and the right products....
Q: If the category was down 11 percent, and you're growing share, then you weren't down 11 percent. But did you grow last year?
A: We grew share.
Q: But that's not the same as growing. So you're doing better than the category?
A: Yes.
Q: Let's talk about specific brands. You have quite a lot.
A: I would say we have 60. It depends on who you talk to—there's been quotes of about 1,500 brands on the marketplace—how do you define a brand. We would say Macanudo the brand, is the parent, and then you have the children.
Q: So counting Macanudo, Macanudo 1968, Macanudo Crü Royale as one brand, you have 60 brands?
A: Yes, and we have a lot of smaller ones. We have seven core brands—Macanudo, Punch, Partagas, La Gloria Cubana, Cohiba, Hoyo de Monterrey, C.A.O. In the marketing mix, that's where we spend most of our time.
Q: Could you rank these brands in terms of sales? I know you don't like giving numbers, but obviously Macanudo is your biggest brand. What's your second biggest—Punch?
A: Yes.
Q: Can I get number three out of you?
A: Let's stick with those two. C.A.O. is a very big brand. Partagas, La Gloria, and then you're onto Hoyo. Then Cohiba obviously. They're all big in their own right.
Q: You also have a lot of factories. [See sidebar at end for factory list] Does every factory have its own personality to it?
A: Very much. They've all come into the organization differently. And we have different management. Jhonys Diaz oversees all the different factories, but he has different General managers that run the factories in their own way. What you see the same is, the pride level is very, very high, the commitment to quality is very, very high. When you were in Santiago you saw great energy on both sides, but different energy. You can see the teams, they're wearing their own uniforms. Everybody has their own personality but they know they're all part of one company.
You must be logged in to post a comment.
Log In If You're Already Registered At Cigar Aficionado Online