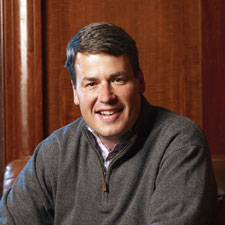 A Conversation with General Cigar's Dan Carr
(continued from page 1)
Q: Are most in the Dominican Republic?
A: Yes. Obviously most are in the factories.
Q: I know you're big—how big is General Cigar in the handmade world?
A: In what way?
Q: How many cigars do you make?
A: You know we don't share those things.
Q: OK, then who is bigger than you? In the world of handmade, who is bigger than you?
A: Nobody. We're the largest. With the recent joint venture we strengthened our No. 1 position in the U.S. market. We're very small outside the U.S., we see that as an opportunity. We think we have roughly around a 35 share of the market.
Q: So the Scandinavian Tobacco Group, in the U.S., is No. 1?
A: We were pre, and we are post.
Q: What are some of the advantages that you enjoy because of your size?
A: With size comes resources. With resources comes people. We have the best of both worlds. If you want to buy leaf or grow leaf, if you want to test things, if we want to age tobaccos in a different way, create blends, the different factories that we have—it becomes endless, what you can do. It gives us a lot of dexterity toward creating brand boutiques. If you think about ideation, if you think about technologies, research, planning, if you're one brand, and you have one person in charge, it's extremely difficult to meet the demands of the anticipated opportunities, as well as the challenges, that exist in the market.
Another example if you take a look at our legislative affairs we've got a dedicated team at both the state and federal level. We have a whole in-house legal team, and we're the only premium cigar company that does. We do that to fight for the rights of the cigar industry. I sit on all the boards. And we have a larger lobbying team, both at the federal and state level, than anybody else. We see that as our role. It protects the industry. Again, if you're one person, one brand, there's only so much time in the day. I'm fortunate that I have a talented group of folks within General Cigar that can weave all these different pieces. So we think we can lead, having these resources we think enables us to take the position to work to expand the category, bring more consumers in.
Q: How is the market?
A: We did come off a mini boom from '04 to '06. Our best estimation of what we think the market size is, at that time it was around 314 million cigars. In 2010, we see the market around 241, and imports are 259. With inventories, the number feels about right. If you look going forward, a lot of the challenges are behind us. One never knows, given the business we're in, but we're very optimistic about the future. We think the economic environment will continue to improve. And hopefully some of the bans will start to stabilize.
I think what's amazing about this industry is the resiliency of the industry. The creativity. How do we get to enjoy cigars? The consumer is extremely resilient. This is a passion for him, it's a lifestyle, and they're very creative in the way they enjoy a cigar. I think that will continue. The idea is to get people to understand the lifestyle.
I'd say more things have changed in the last three years than in the last 12 before it. We have kind of a trifecta there, if you look at the economy, social trends and the legislative environment. If you put them all together, those three things hurt the most in the cigar industry. This industry is about celebration. It's about taking an hour and sitting with good friends. When those three things happened, it was a major impact. If you look at the political landscape right now, there are 39 states that have a partial or full smoking ban.
You must be logged in to post a comment.
Log In If You're Already Registered At Cigar Aficionado Online