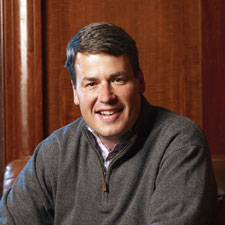 A Conversation with General Cigar's Dan Carr
Dan Carr took the reins of General Cigar Co. last year just as it celebrated its 50th anniversary of making cigars by hand. As president at 48, he now heads one of the cigar world's biggest companies—the maker of Macanudo, Punch, La Gloria Cubana and Partagas. Carr had joined General in 1996, quickly rising to vice president of sales, at the height of the cigar boom. When Swedish Match AB bought the company's mass market business in 1999, he went to work on the Stockholm firm's White Owl machine-made cigars, Red Man chewing tobacco and other products.
In 2005, Swedish Match acquired General Cigar and returned Carr to that division as its senior vice president of sales and marketing in 2007. Promotions to chief operating officer, in 2009, and then president, in 2010, followed in rapid succession. When Swedish merged last year with the European giant Scandinavian Tobacco Group, Carr was charged with integrating the U.S. operations of both companies, which also added the C.A.O. brand to his portfolio. Today, Carr is responsible for leading the new company's premium cigar business on a global level.
Recently, Carr sat down in New York City at his company's Club Macanudo cigar bar for a lengthy discussion with senior editor David Savona.
Savona: Let's get to know you a little bit. In 1996 you started with General. Was that your first time in the cigar business?
Carr: Well, yes and no. When I first came out of college in 1983, I went to work with a buddy of mine whose dad had a construction company. It was in Saddle River, New Jersey. We ended up building a warehouse. And the warehouse turned out to be Villazon [then the owner of the Punch and Hoyo de Monterrey cigar brands]. It was my first construction job. The most they let me do was mix the cement. And in 1997 we [General Cigar Co.] ended up buying the company.
Q: What a small world. Does that warehouse still stand today?
A: Yes (laughs).
Q: You did a good job. In 1996 it was the height of the cigar boom. What was it like?
A: It was easy to get an order. It was fast-paced. It was a lot of learning for me. It was really my introduction to premium, luxury goods. We had a lot of growth in that period. The reason I went to General is I sat with the president at the time and I asked him, "What are your objectives?" And he said, "If I don't double the company in three years I failed, if I don't go international I failed, if I don't double the employees I failed, and if I don't take the company public I failed." I left the building and I called my wife and said either I'm doing the smartest thing in my life or I'm doing the dumbest. It's been incredible. It's an extremely challenging business, it's not a traditional consumer packaged products environment, we have to face legislative and regulatory issues, and we have to work on ways to build awareness in a very niche business.
Q: You studied business [at Harvard Business School]. When you heard this description from the president of General, what did you think?
A: It was exciting. I loved the ambition. There was a vision of where this business could go.
Q: What was your role in '96?
A: I actually came in as VP of sales. I got the opportunity to work for Edgar [Cullman], both Sr. and Jr., and did that all the way up to '99 when we got acquired by Swedish Match.
Q: Were you machine-made and handmade back then? Because General had both segments in those days.
A: My role was both.
Q: What are some of the differences between mass-market and handmade?
A: Units for one—I believe the machine-made is roughly seven billion cigars in the U.S. while handmade cigars are estimated at 241 million. Mass market is more about efficiencies. The mass-market side is very data driven. It's fact-based. You've got the human factor on the premium side, and on the premium side, we don't have the data. And a lot of times the [individual store] owner is the buyer on the premium side, which you don't see on the mass side. The other thing is the personalities and the characters. Both have pluses and minuses, but the premium cigar business is a passion. We're working all the time because we love it. We hope we're making an impact.
Q: How many employees does General Cigar have at this time?
A: Around 4,500.
You must be logged in to post a comment.
Log In If You're Already Registered At Cigar Aficionado Online