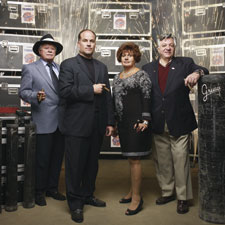 The first family of fireworks: M. Philip Butler, Phil Grucci, Donna Grucci Butler, and Felix Grucci Jr. make up the core team.
Showmen of the Sky
The Grucci family sets the standard for fireworks celebrations around the world
(continued from page 4)
"George grasped the concept, because he could relate it to his own field. He could understand how difficult it is to put on a six-minute or eight-minute fireworks show that gives people so much color and excitement and joy."
And giving that joy can be a very, very good reason to light up not just the sky, but a cigar.
Mervyn Rothstein is a frequent contributor to Cigar Aficionado.
You must be logged in to post a comment.
Log In If You're Already Registered At Cigar Aficionado Online