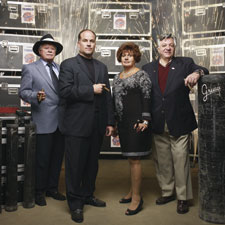 The first family of fireworks: M. Philip Butler, Phil Grucci, Donna Grucci Butler, and Felix Grucci Jr. make up the core team.
Showmen of the Sky
The Grucci family sets the standard for fireworks celebrations around the world
(continued from page 3)
Felix Grucci says "You start with the music, or the theme, and you build from there. You understand the inventory, what we call our characters, for the performance. You know that some fireworks have a soft color field. Some are very bold in color. Some have movement. Some have sound. Some have a combination of the above. When you listen to the music, you think that a particular device would work well with this theme of music, so you lay it in and see how it blends with the rest of the program—does it stand out, is it a moment of ooh and aah? Does it all come together? You may say to yourself that you've got too much of this effect, and it's going to start to become anticlimactic. It may take several hours to do a minute's worth of fireworks production. Because you start with a blank piece of paper and the vision is in your mind's eye."
The electronic chip, fired by computer, is embedded in the aerial shell. "A firework is very similar to a cannonball," Phil Grucci says. "It's a projectile that gets launched out of a tube—we call it a fireworks mortar. Typically, there's a timing device that's made with black powder that burns internally as the shell is rising in the sky. When that black powder train burns into the center of the shell, it ignites the charge that's in the middle and bursts the shell open."
The computer chip "replaces the fireworks fuse. With the fuse, in a typical four-second rise time, you may have a half-second tolerance, plus or minus. Well, a chip brings that down to 100 milliseconds, which means that if you know what the mortar velocity is of a fireworks shell coming out of the tube—it's generally around 400 feet per second—and you can keep that consistent, then you can dictate where in the sky the shell is going to burst."
It's called a pixel-burst shell, a Grucci trademark, "and if you create a dot in the sky, a pixel, and start connecting those dots, you can start creating some pretty amazing abstract sequences, where you're creating shapes in the sky." One of the more surprising shapes was created nine years ago, when New York's Museum of Modern Art moved temporarily to Queens for a major expansion of its Midtown building, and the Gruccis created a "transient rainbow" from Manhattan to the museum's temporary home borough.
Using the chips, the Gruccis are now also creating digits in the sky. "We call it a rumble digit," Phil Grucci says. "It will fire 200 aerial shells in rapid sequence, and they will burst in the sky all at once and create a number, an eight or a seven or a six," or whatever. "We're starting to develop that in a more refined manner, to use as a countdown for some of our upcoming New Year's Eve programs. We first used that kind of program in Beijing to do the countdown for the Olympic opening ceremonies."
Phil Grucci says that when it comes to cigars, he's been smoking since he was 20. In addition to relieving stress, he smokes "when I have a moment to sit back and relax and enjoy whatever environment I'm in." He likes a relatively new brand, Acid, made with Nicaraguan tobacco. "I have a friend, Scott Chester, who designs the labels, who did the graphic work. It's a smoother cigar, with a really easy draw. It's an up-and-coming brand," flavored with natural herbs that can, for instance, have a clove, floral or spice taste. "I know they're a little controversial," he says. He does a lot of international travel, so he gets a chance to smoke Cuban cigars, but "some of them I believe are a little overrated."
Felix Grucci likes to smoke "on the back porch of my house, by myself. I'll have a cigar and a Courvoisier and sit back and relax and unwind after days of pressure. You've got quiet, you've got solitude." He'll also smoke socially, when friends "get together and have cocktails and cigars." Among the smokes he likes are Cohibas.
Phil Butler says his "introduction to cigars goes all the way back to Te Amo. Incredibly strong cigars. I kind of got used to that strong cigar, but I went away from that when I started looking for better cigars." He prefers the Churchill shape, about seven inches long, with a 50 ring. "When the weather warms up I go out on my balcony. I have a nice pair of binoculars and I look for satellites and enjoy an hour's worth of watching satellites and smoking."
Felix Grucci recalled that George Plimpton, the late editor of The Paris Review and the author of Paper Lion, who followed the Gruccis for his 1984 book Fireworks: History and Celebration and became a good friend, once said: "You guys have a great job. You get to paint the night skies with so much magic, so much fire, so much excitement. In my world I have to sit with a blank piece of paper and try to come up with a theme and a story line."
"I said, 'George, that's not much different from what we do when we create a program. We're sitting with a blank piece of paper and a soundtrack, and we need to come up with a theme and an idea and a concept. Instead of typing words on paper we're assigning fireworks to time slots in a program. They don't just materialize. They come from the same kind of process that you go through.'
You must be logged in to post a comment.
Log In If You're Already Registered At Cigar Aficionado Online