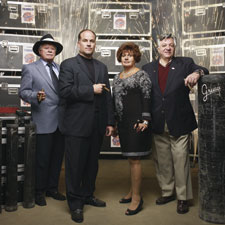 The first family of fireworks: M. Philip Butler, Phil Grucci, Donna Grucci Butler, and Felix Grucci Jr. make up the core team.
Showmen of the Sky
The Grucci family sets the standard for fireworks celebrations around the world
(continued from page 1)
Phil Grucci says that when it comes to cigars, he's been smoking since he was 20. In addition to relieving stress, he smokes "when I have a moment to sit back and relax and enjoy whatever environment I'm in." He likes a relatively new brand, Acid, made with Nicaraguan tobacco. "I have a friend, Scott Chester, who designs the labels, who did the graphic work. It's a smoother cigar, with a really easy draw. It's an up-and-coming brand," flavored with natural herbs that can, for instance, have a clove, floral or spice taste. "I know they're a little controversial," he says. He does a lot of international travel, so he gets a chance to smoke Cuban cigars, but "some of them I believe are a little overrated."
Felix Grucci likes to smoke "on the back porch of my house, by myself. I'll have a cigar and a Courvoisier and sit back and relax and unwind after days of pressure. You've got quiet, you've got solitude." He'll also smoke socially, when friends "get together and have cocktails and cigars." Among the smokes he likes are Cohibas.
Phil Butler says his "introduction to cigars goes all the way back to Te Amo. Incredibly strong cigars. I kind of got used to that strong cigar, but I went away from that when I started looking for better cigars." He prefers the Churchill shape, about seven inches long, with a 50 ring. "When the weather warms up I go out on my balcony. I have a nice pair of binoculars and I look for satellites and enjoy an hour's worth of watching satellites and smoking."
Felix Grucci recalled that George Plimpton, the late editor of The Paris Review and the author of Paper Lion, who followed the Gruccis for his 1984 book Fireworks: History and Celebration and became a good friend, once said: "You guys have a great job. You get to paint the night skies with so much magic, so much fire, so much excitement. In my world I have to sit with a blank piece of paper and try to come up with a theme and a story line."
"I said, 'George, that's not much different from what we do when we create a program. We're sitting with a blank piece of paper and a soundtrack, and we need to come up with a theme and an idea and a concept. Instead of typing words on paper we're assigning fireworks to time slots in a program. They don't just materialize. They come from the same kind of process that you go through.'
"George grasped the concept, because he could relate it to his own field. He could understand how difficult it is to put on a six-minute or eight-minute fireworks show that gives people so much color and excitement and joy."
And giving that joy can be a very, very good reason to light up not just the sky, but a cigar.
Mervyn Rothstein is a frequent contributor to Cigar Aficionado.
You must be logged in to post a comment.
Log In If You're Already Registered At Cigar Aficionado Online