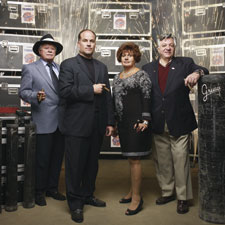 The first family of fireworks: M. Philip Butler, Phil Grucci, Donna Grucci Butler, and Felix Grucci Jr. make up the core team.
Showmen of the Sky
The Grucci family sets the standard for fireworks celebrations around the world
(continued from page 1)
Fireworks by Grucci is a more than 150-year-old family business that traces its origins to Angelo Lanzetta, who began working in fireworks in Bari, Italy, a port on the Adriatic Sea, in the early 1850s. His grandson and the family patriarch, Felix James Grucci Sr., who died in 1993, went to work for his Uncle Anthony, Angelo's son, in 1923, and they opened a shop in Bellport, Long Island, in 1929.
Over the years, as The New York Times noted in Felix Sr.'s obituary, he "gained an international reputation as an innovator in fireworks and was the oldest master craftsman in that field in the country."
But until 1979, the Gruccis were mainly a local business, known mostly in and around New York, and along the East Coast. It was in that year that the family decided to enter the annual international fireworks competition in Monte Carlo, competing against Denmark, France, Italy and Spain. And the Gruccis won, becoming the first United States team to finish on top. It is the only fireworks competition the Gruccis have ever entered.
Donna Grucci Butler remembers that her brother James "came up with the idea of Monte Carlo. Every week we would sit down to a nice family dinner and end up with a big family argument, my father saying we're not going and my brother saying yes, we have to do this, we can win. Jimmy won that battle."
For the record, Donna is Felix Sr.'s daughter; Phil, Donna's nephew, is the son of her brother James Grucci, who died in a fireworks accident in 1983; another brother, Felix J. Grucci Jr., is executive vice president and chief financial officer of both Fireworks and Pyrotechnique; Donna's husband, M. Philip Butler, is vice president of sales and marketing for Fireworks by Grucci.
The Gruccis' executive offices are on a dreary 90-acre plot on the edge of Long Island's Pine Barrens in Suffolk County, New York. A small, circular, blue sign at the turnoff is the only indication you're entering Grucci territory. The offices are in a small, blue, wooden building that looks like a miniature barracks.
Nearby is a warehouse facility used to build props and store launch equipment. Rows of bunkers inhabit the sandy soil, which holds fireworks and special effects awaiting their destination orders. The Grucci product used to be produced in Brookhaven, but now it's made in Radford, Virginia—on 1,000 acres of a large army ammunition plant—as well as in Asia and Europe.
Inside the blue barracks, the walls are filled with memorabilia—family pictures, ID badges from around the world, panoramic photos and time-lapse exposures of the family specialty, in red, white and blue, green, yellow and gold.
The Brookhaven office has 20 full-time employees, though the staff increases as the Fourth of July, a time of multiple events, nears. In Virginia, there's a staff of 150. "And there are more than 300 part-time pyrotechnicians" who work on setting up and executing the programs, Phil Grucci says—"they're mechanics, accountants, lawyers" who love to work on fireworks.
"We're very fortunate," Donna Grucci Butler says. "They have full-time jobs, so to do fireworks with Grucci, they're giving up vacations, time with their families. They are just so into the pyrotechnics and the challenge of where they're going and what they're going to do to help put it up in the air."
You must be logged in to post a comment.
Log In If You're Already Registered At Cigar Aficionado Online