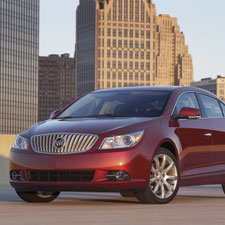 Buick's LaCrosse has captured the interest of a youthful demographic with its innovative styling. Much credit can be given to the Chinese market, where the brand is a surprise hit.
Buick's China Connection
How an unlikely pact with capitalism brought luxury cars to the People's Republic and pumped life into a General Motors division on the brink of extinction
(continued from page 2)
The unveiling of the Park Avenue show car marked a grand transformation of the Buick brand. Though they may be relative newcomers to automotive transportation, says George Peterson, chief analyst with the consulting firm AutoPacific, Inc., Chinese drivers have become surprisingly picky. Especially with luxury brands, they expect more room, better materials and luxurious appointments front and back. "So, GM has been paying a lot more attention to what they want," adds Peterson, "and that is influencing the design and the type of vehicles Buick sells not only in China but in the U.S. as well."
That became apparent with the launch of the LaCrosse, with GM's Shanghai-based design and engineering center, known as PATEC, taking the lead on the project. As California property speculator Coffin recognized, Buick is no longer content to go with me-too styling. The new sedan is elegant, almost to the point of excess, with a wind-swept appearance that stands out in an otherwise conservative market segment. Inside, Buick maintained its focus on the sort of classic creature comforts that once made it among the most popular brands on the U.S. market, starting with interior noise levels that can best be described as tomb-like, thanks to acoustic laminated glass, triple-sealed doors and specially designed suspension bushings. A quiet interior is great, but all too many Buick products in recent decades offset that advantage with the use of cheap plastic parts that looked like they'd been sourced from the local Dollar Store.  While plastic is a modern automotive reality, the latest Buick models have introduced better graining and finishes, with more leather, wood and chrome, as well.  So, for many potential customers, the latest LaCrosse cabin comes as a delightful surprise—refined, attractive and well executed.
At the time of the bankruptcy, Buick had just three models in its diminishing U.S. lineup. That's beginning to bounce back, the well-received Regal added for 2011, with the compact Verano on tap for 2012 —and a new small crossover set to complement the Enclave. As with LaCrosse, these are "world cars," no longer designed and engineered in the States and targeted solely for the American market. But clearly, building on recent momentum is critical for the brand. It helps, says analyst Peterson, that there are fewer brands in the GM portfolio. Buick can now focus on competing with the likes of Lexus or Infiniti, rather than Pontiac or Oldsmobile.
Ironically, Buick's steady decline might be working to the brand's advantage, suggests Craig Bierley, the marque's marketing director, since, "a lot of people simply aren't aware of the brand," which could make it easier to create a new brand image for it. Art Spinella, chief researcher with CNW Marketing, agrees, suggesting that in recent years Buick had become "so irrelevant" it was off the radar screen for most shoppers. But that has begun to change, CNW studies are showing. "Buick is almost like a new brand," and that is helping it lure in a younger, better educated and decidedly more affluent buyer than the one the GM division had appealed to in recent decades. "The typical Buick buyer was in their 60s or even older. Nobody bought Buicks except great-grandfathers. Now (the typical buyer) is getting down into their 40s."
To reach those buyers, Buick has walked away from its past association with marketing ventures, like professional golf, that targeted older buyers. It recently signed a long-term deal with the NCAA, which launched during the annual "March Madness" college basketball tournament. In a creative twist to the typical sports marketing partnership, Buick is skipping the shopworn "Play of the Game" tie-in, instead introducing the "Human Highlight Reel," which Bierley says will focus on stories about NCAA athletes "who have gone on to do good things for the community."
 
Warm, Inviting, Inclusive
Buick's turnaround—indeed, GM's as a whole—is anything but certain. The maker faces some intense competition from established luxury makers and some new insurgents, like Hyundai, which introduced its mid-luxury Genesis to plenty of acclaim several years ago and is now moving even more up-market with the Equus. Buick must also work to differentiate itself from the sibling Cadillac brand. Where Caddy is being positioned as "visceral and emotional," with its coolly angular "Art & Science" design language, Buick aims to be "warm, more inviting and inclusive," says Tony DiSalle, its sales chief.
The good news, he adds, is that having a strong Buick in China can only help. It improves economies of scale, making for a better business case when it comes to adding new products—and loading up more features on existing models, like the LaCrosse and Regal. What might be coming? Buick officials aren't saying, though they hint they'd like a "halo" car, much like Chevrolet has the Corvette and Mercedes-Benz has the SL roadster.
A very different take might be based on the Envision concept vehicle that was unveiled at this year's Shanghai Motor Show. "It introduces the development direction for Buick's future SUV products for the China market," added Shi Hong, Director of Buick Marketing at Shanghai GM. And it could very well influence future U.S. models, as well. Envision uses a prototype plug-in hybrid drivetrain which could very well appear in Buick's lineup by mid-decade. Starting in 2012, U.S. buyers will see the LaCrosse adopt the new eAssist system as its standard-issue drivetrain. A "mild" hybrid—meaning it cannot run solely on battery power—the eAssist system nonetheless boosts the sedan's highway mileage from an acceptable 30 mpg to a segment-leading 37.
"Things are changing for Buick," contends analyst Peterson. Buick still has a long way to go. But it has so far pulled off the sort of turnaround few would have expected for a brand long written off for dead. The proof, of course, will be in the product. But that's where Buick has already begun winning new fans—and buyers.
Paul A. Eisenstein is publisher of TheDetroitBureau.com on the Internet.
You must be logged in to post a comment.
Log In If You're Already Registered At Cigar Aficionado Online