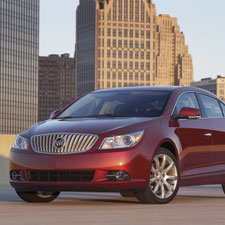 Buick's LaCrosse has captured the interest of a youthful demographic with its innovative styling. Much credit can be given to the Chinese market, where the brand is a surprise hit.
Buick's China Connection
How an unlikely pact with capitalism brought luxury cars to the People's Republic and pumped life into a General Motors division on the brink of extinction
(continued from page 1)
Detroit was the Silicon Valley of its day, but instead of software companies it had hundreds of hard-metal manufacturers, all vying for a piece of the action as Americans began to embrace the horseless carriage. Few would survive the shakeout. Even Henry Ford foundered in his first two tries. Buick's founder knew he couldn't pull it off on his own. Within months of renaming the company, Buick was deeply in debt and snapped up at a bargain by James H. Whiting, another automotive pioneer, who moved the maker to his hometown of Flint, barely 100 miles north of the Motor City. In turn, Whiting brought in William Crapo Durant to manage the acquisition.
Born in Boston, Billy Durant was the grandson of a Michigan governor and soon moved to the Midwest, where he tried his hand at a variety of jobs, selling cigars, working in a lumberyard, even selling carriages. Durant founded the Flint Road Cart Company in 1886—the same year Carl Benz built the first true motor car and a decade before the Duryea brothers launched the first U.S. auto company—turning a $2,000 investment into $2 million in sales. Renamed the Durant-Dort Carriage Company, it eventually became the largest producer of horse-drawn vehicles in the world. It was also a pioneer of the concept of setting up franchised dealers, a model that exists largely unchanged more than a century later.
Initially, Durant was skeptical of the horseless carriage, refusing to let his daughter ride in one of the noisy, smelly and dangerous contraptions. But he began to recognize the revolution at hand and signed on with Whiting, first as general manager. Durant soon became the president and then chief executive of the company, which was reincorporated in 1908 as General Motors. A natural born huckster, he quickly turned Buick into the best-selling automotive brand in America. But Durant had bigger things in mind. GM would become a holding company for an assortment of promising auto companies and parts suppliers. He snapped up Oldsmobile—founded by another auto pioneer, Ransom E. Olds—Oakland and Henry Leland's Cadillac.
It was a turbulent era and Durant lost control of GM. He went on to set up Durant Motors and then raised enough cash, with the help of Pierre S. du Pont, to buy back a controlling stake in General Motors. Durant was pushed out for the last time by du Pont, in 1920, to be replaced by Alfred P. Sloan, the steely-eyed executive who would revolutionize manufacturing and business practices in general, creating the management system that would define GM for most of the rest of the twentieth century.
Sloan has often been credited with—blamed for, if you prefer— conceiving the idea of planned obsolescence, a practice now utilized in the computer trade. He also invented a pricing structure dubbed the "ladder of success." Each of GM's brands targeted a particular buyer and a specific price niche to avoid competing with one another. At the base was Chevrolet, followed by Pontiac, then Oldsmobile, then Buick then Cadillac. Buick had more prestige than Olds because, among other things, it used only eight-cylinder engines, notes automotive historian Mike Davis. But it was intentionally more subdued than Cadillac, explains Davis. "Buick became the doctor's car," while Caddy targeted the more flamboyant entrepreneur and those who could flash their money. "The doctor was your neighbor, and people didn't want to see him driving a Cadillac because it would have meant he was getting rich off you."
 
The Emperor's New Car
In its early years, Buick had a surprisingly loyal following around the world. The Bulgaris, known for their lavish jewelry and other luxury products, have been loyal fans over the decades. Nicola Bulgari, a grandson of the founder, owns a collection of some of the best Buicks from the past century. He spent years tracking down one of the rare 41 Model 96S Buicks built during the Depression year 1935. It took him another two years and a "significant" amount of money, he recalls, to repair the "disaster" he found. But, in the end, it landed a commendable second-place trophy at the annual Pebble Beach Concours d'Elegance—no mean feat considering that this Academy Awards of automotive car collecting is typically dominated by such exotics as Delahayes, Duesenbergs and Bugattis.
But perhaps the most influential Buick customer of all time—even if he didn't recognize it—was the last emperor of China. Emperor P'u-i bought two of the cars in 1924. They were, in fact, the first motor vehicles ever allowed to pass through the gates of the Forbidden City. His endorsement was so critical that by 1930 one in every six cars in China was a Buick, the company boasted in an advertisement from that era. "Buick owners are mostly the leading men in China," it declared.
 Somehow one of P'u-i's Buicks survived the devastation of the Second World War and when the communists eventually took over it landed in the hands of Zhou Enlai, Mao's top lieutenant, who had a decidedly decadent taste for fine automobiles. Years later, long after Mao and Zhou were gone, the emperor's Buick would still wield its influence.
As the twentieth century drew to a close, former General Motors Chairman Jack Smith decided to take a bold gamble on China. With the Chinese cautiously embracing a hybrid form of capitalism, GM saw an opportunity to cash in on potentially booming demand for automobiles. The deal was lucrative, but the Chinese were reluctant to sign. They had no interest in Chevrolet, the U.S. maker's biggest brand, nor Cadillac, its most prestigious, nor Opel, then GM's preferred global marque. "They only wanted the best," recalls Larry Gustin, then a General Motors PR man in on the negotiations. "They wanted Buick." Reluctantly, Smith and his team agreed.
The move garnered virtually comparable sales in China as in the U.S. over the last decade. By 2007, for the biennial Shanghai Motor Show, Buick took the then-unheard-of step of developing a concept vehicle specifically for China. Dubbed the Park Avenue—a nod to a once-familiar nameplate—it was "designed especially for business leaders and other elites," explains Shanghai GM President Ding Lei, adding "it is a component of our effort to maintain our leadership position in China by addressing the needs of all of our customers."
Building on the brand's success, GM has expanded its presence in China, adding Chevrolet, Cadillac and Opel, as well as the homegrown Wuling and the Baojun marque, which will target second and third-tier cities in mid and western China where consumers are just getting wheels.
 
A Grand Transition
You must be logged in to post a comment.
Log In If You're Already Registered At Cigar Aficionado Online