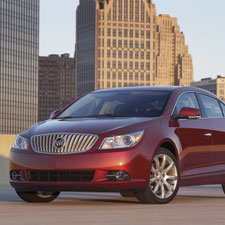 Buick's LaCrosse has captured the interest of a youthful demographic with its innovative styling. Much credit can be given to the Chinese market, where the brand is a surprise hit.
Buick's China Connection
How an unlikely pact with capitalism brought luxury cars to the People's Republic and pumped life into a General Motors division on the brink of extinction
If you look at it from the perspective of the China of barely a decade ago it seems an unlikely scenario. At the time, bicycles, motorbikes and buses ruled the roads, and the sight of a luxury automobile was enough to draw everyone's attention. But today this communist nation has become the world's largest car market. That's been particularly good news for a high-end brand from the other side of the globe. Buick has just sold its three millionth vehicle behind the old Bamboo Curtain.
Something may seem out of kilter—with the relatively upscale Buick in sharp contrast to that country's traditionally no-frills motif. But old China hands might also recall that there's an odd historical link between the brand and the increasingly capitalistic Chinese. Whatever the reason, "It saved Buick," Ed Welburn, GM's global design director, says in hindsight of a deal struck to build cars at a new plant in Shanghai that was inked in the late 1990s. Had it not been for China, Buick might well have been among the brands the Obama administration insisted General Motors abandon in order to receive a government bailout in 2009.  Indeed, some might suggest that the Buick-China connection has been critical to turning around the foundering GM itself. The maker now sells more vehicles in China under an expanding mix of brand names than it does in the United States.
That list includes the homegrown Baojun, or Treasured Horse, as well as Wuling microcars, various Chevrolets and Opels, and even some Cadillacs. Yet, to the Chinese, none of those carries the cache of Buick, which has been generating sales of over 60,000 a month lately. That's nearly as many vehicles as Buick's U.S. dealers moved in all of 2009.
That's not to say Buick is abandoning the States. Quite the contrary. But, not surprisingly, Chinese drivers now have plenty of clout, and if you're thinking about the fancy new Buick LaCrosse that is winning rave reviews, give thanks to those Asian buyers for driving innovation back into the storied American brand—and attracting a new generation of hip, affluent customers who had long ignored the staid and fading marque.
When Rick Coffin went looking for a new family chariot earlier this year, his friends and neighbors had plenty of suggestions—all of them imports. But the 38-year-old Coffin, a property speculator from Los Angeles, had something else in mind, something he admits took a lot of folks by surprise. He went looking at a new Buick Enclave. "It was the first time something from Buick caught my eye and I had to check it out," admits the father of three. "Knowing that American cars haven't been a hot ticket in years, I was surprised to see them take that leap in design. It was refreshing to see something so luxurious." In the end, Coffin opted for another General Motors product, the equally bold Cadillac Escalade ESV, because it had more room for his family and friends. But Coffin says that he'll be keeping his eye on the Buick line in the future. And he's not alone.
In fact, Cigar Aficionado surprised the skeptics by naming the Buick Enclave as best luxury crossover car of 2008. Two years later, we followed by declaring the marque's LaCrosse sedan the best entry luxury model.
Certainly, things didn't look so good for Buick when the Enclave first rolled into showrooms. The maker's sales and market share had steadily declined over the years, from a brand that was once near the million-unit mark to barely 445,611 by 1999.
Then the bottom dropped out entirely. By 2009, the maker was barely an asterisk on the sales charts, retail volume slipping to just 88,887 and overall sales propped up by another 13,500 cars dumped into fleets—mostly money-losing daily rentals. For years, industry analysts had been questioning Buick's long-term viability, and as General Motors' fortunes faded, the whispers became a loud chorus of naysayers. Indeed, many expected GM to abandon Buick entirely when the once-dominant carmaker plunged into bankruptcy in 2009. With the strict terms for a $50 billion federal bailout came GM's agreement to dump four of its eight North American divisions. Onto the automotive scrapheap went Pontiac, Hummer, Saturn and Saab. But somehow, Buick avoided the crusher. And that, too, is beginning to look like a prescient decision.
Buick may not be the powerhouse it was when it rivaled Cadillac, Lincoln and Chrysler among domestic luxury brands, but it is suddenly showing a level of vitality not seen in decades. Through April of this year, Buick reported its 19th monthly sales gain with volume for the year-to-date up roughly 70 percent. The brand was actually running neck-and-neck with Lexus and BMW, the high-line imports that have long dominated the U.S. luxury market. Indeed, with Lexus facing shortages for the rest of the year due to the March 11 earthquake that damaged or destroyed much of the Japanese automotive infrastructure, Buick could very well land as the number two or three luxury brand in the U.S. market this year. But it's Buick's booming presence in a key market overseas that helped it survive GM's bankruptcy.
 
The Auto-Vim and Power Company
No other brand is more closely associated with General Motors than Buick. The familiar badge traces its roots back to 1899, when it was founded as the Buick Auto-Vim and Power Company, by Scottish-born David Dunbar Buick. He changed the named to the Buick Motor Co. four years later, rolling out a grand total of 37 cars in its first year.
You must be logged in to post a comment.
Log In If You're Already Registered At Cigar Aficionado Online