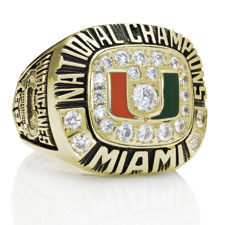 The 1991 Miami Hurricanes' national championship ring.
Lord of the Rings
Those who find ultimate glory in sport are rewarded with massive rings of gold
(continued from page 3)
The two most prized rings in the collection are the 1953 ring, made by Balfour, which designates the year the Yankees won an unprecedented fifth consecutive World Championship. Its design includes a large "5," with the curve filled with a large diamond. The 1961 ring recalls the year that Roger Maris hit 61 home runs and Mantle hit 54. The Webb collection, obtained by Halper from Mrs. Del Webb and housed in a custom-made black leather jewelry box with Del Webb's initials ("D-E-W") in gold letters on top, sold for $310,500.
Many years later, players still have the same affection for the rings. Former boxing champ Joe Frazier is rarely seen without his enormous gold heavyweight championship ring on his lethal left paw. Mark Teixeira finds his 2009 Yankees' ring subdued enough to be at home on his finger. "It's wearable," Teixeira says. "That's what I love about it." He would consider wearing it to charity and speaking engagements, not to mention "nice dinners with his wife." Brett Gardner said he would tuck his Yankee treasure away in a safety deposit box. "It's something that won't be going on eBay, you know what I mean?" Gardner says. "It's something you've got to take good care of. Hopefully I can give it to my kids one day and they can pass it down."  
A less-known story is how Willie Horton lost his 1968 ring. "I was shoveling snow and it came off," Horton says. He gave it up for lost. But the ring wound up in a pawn shop in Miami. A real estate broker from Auburn Hills, whose grandfather owned the shop, acquired the ring before it could be sold and returned it to Horton. "He didn't want anything," Horton relates. "I wanted to take him to dinner, something. Now I put it on when I shower."
By 2010 standards it's rather plain—yellow gold with a single diamond against a dark background. No matter. To Horton—who hit 325 home runs at a time when people earned that number—it's precious. It reads "Detroit Tigers World Champions" on the face and "Horton" on the side. "There are Hall-of-Famers without rings," he says, explaining his affection for it. "I wear it everyday."
Kenneth Shouler is a regular contributor to Cigar Aficionado. He blogs at kenshouler.com
You must be logged in to post a comment.
Log In If You're Already Registered At Cigar Aficionado Online