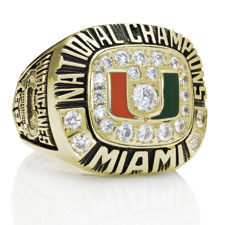 The 1991 Miami Hurricanes' national championship ring.
Lord of the Rings
Those who find ultimate glory in sport are rewarded with massive rings of gold
(continued from page 2)
The Boston Celtics have dominated basketball as the Yankees did baseball, but it was 22 years between titles when they earned no. 17 in 2008. For that that championship ring, made by Balfour, Boston exhaled, making the kind of fashion statement that a team waiting two decades for a championship makes. The highlight was an emerald shamrock on the top, surrounded by 64 diamonds. One shank read "Banner 17," commemorating the 17th championship. The other included a brow raiser—the word "Ubuntu," coach Doc River's choice and the team's mantra during the 2007–2008 season. The African word translates "I am, because we are." The 14-karat white-gold ring contained some 92 diamonds and emeralds, making nine karats of gemstones. Topping it all off was Red Auerbach's signature, engraved inside. The rings were reportedly worth $30,000 apiece.
Not all ring stories are triumphant. A dark side concerns the great number of players who have needed to sell their rings. Such sales often owe "to one of the four D's—divorce, destitution, drugs and death," explains T. J. Kaye of TJ's Collectibles, which specializes in championship rings. Many athletes down on their luck pawn their treasures, which collectors in turn resell. Others not in dire straights still sell them anyway. Bill Buckner and Harmon Killebrew, Carl Yastrzemski (who sold a career ring), Pete Rose and Luis Aparicio are but a few stars who sold their gold.
"People sell off rings for the same reasons that people sell off other things—their circumstances change," Kaye says. Harmon Killebrew, the recently deceased Twins Hall of Fame first baseman who hit a legitimate 573 home runs, sold his 1985 All-Star ring and the Twins' 1987 World Championship ring. He retired in 1974, but the '85 All-Star game was played in the Minneapolis Metrodome, and the Twins honored him with a gold ring for his lifetime association with the franchise. The 10-karat 1987 World Series ring was another award for his time with the club.
Giants' running back Dave Meggett tried to sell his 1990 Super Bowl ring on eBay for $40,000 in 2005. This attempt followed a string of charges for lewdness, soliciting sex and rape. According to Kaye, Clete Boyer sold his 1961 World Series ring in the late 1990s for $25,000. TJ's Collectibles bought it back and sold it back to Clete at the same price. Boyer's son then tried to auction it for $40,000. A Steelers front-office person whose estate went into bankruptcy sold his 1975 and 1976 rings on eBay in 2008. The 1975 ring went for $32,751 and the 1975 ring fetched $34,100.
Pete Rose sold both of his Cincinnati World Series rings. The rings sold for $18,400 and $12,650 respectively at the Halper auction, but it is unsurprising that the tale of Rose's rings contained a bit of scandal a decade before the sale. At first, Rose claimed that he had displayed his 1975 and 1976 rings, as well as his 1980 Series ring with the Phillies, at the Kentucky National Bank in downtown Cincinnati in April 1989, just to prove that he hadn't sold it to a convicted Massachusetts bookmaker Joseph C. Cambra to cover a debt. Cambra only had a copy of the ring, Rose explained in his deposition to baseball investigator John Dowd on April 20 and 21, 1989. The bank also had copies. "The authentic rings are owned by Barry Halper," Rose affirmed. 
There are warm and humorous ring sale stories, too.
Patriot safety Je'Rod Cherry raffled his ring from Super Bowl XXXVI in 2008 to benefit charities working to help children in Africa and Asia. The cost of raffle tickets and the sale generated more than $200,000. And tight end Shannon Sharpe gave his first Super Bowl ring to his brother Sterling, whose career was shortened by an injury. Bill Buckner didn't get a coveted ring in the 1986 Series, but the Boston first sacker did sell Halper the glove and cleats that he wore in game six. In a note to Halper he wrote "To my pal Barry—this glove has way too many holes in it! This is the glove I wore in the 1986 World Series when I missed Mookie Wilson's ground ball in the 6th game. What a nightmare. Best Wishes, Bill Buckner." Buckner's Nike Air high-top cleats, showing heavy wear like the glove, merited their own note, much the same as the first. We don't know what Buckner fetched for the tools of his misery, but some buyer wanted the glove and cleats badly enough to pay $51,750 for them at auction.
At least one player was able to increase his World Series shares by selling all his rings. Johnny Hopp, an outfielder and first baseman for the World Champion Cardinals in 1942 and 1944 and the Yankees in 1950 and 1951, collected winning World Series shares each year and also sold his four rings. The winner's share in 1942 and 1944 totaled $10,818.54 and the winning shares on the two Yankee title winners added up to $12,184.04. Together, the 1942 and 1944 rings and Hopp's 1950 and 1951 rings—one the size of a man's pinkie ring, which might have been made smaller for Mrs. Hopp—were sold for $40,825. Hopp earned significantly less from the sales, but he certainly increased his income. The Yankee ring was inscribed "Johnny Hippity Hopp," an apt moniker for such a nomadic player.
Hopp played with Joe DiMaggio on the '51 Yankees. DiMaggio later reported that his rings were stolen from his room at the Hotel Lexington in New York. Halper later acquired the 1951 ring in a sale, and claimed that the item, engraved "Joe DiMaggio" on the inside, was Joltin' Joe's only surviving ring. It sold for $37,375. (When DiMaggio made his last Yankee Stadium appearance at Joe DiMaggio Day at Yankee Stadium on September 27, 1998, owner George Steinbrenner presented DiMaggio with replicas of his nine World Series rings, as he would later do for Berra.)
The record for the largest sale of rings belongs to Del Webb, who with partners Dan Topping and Larry MacPhail bought the Yankees for $2.8 million in 1945 and sold them to CBS during the 1964 season. Webb—whose Yankees won 10 World Series and five pennants during his tenure—was fastidious about keeping his entire collection of rings, all of which are 14-karat gold, excepting a 10-karat ring in 1949. The Series rings each have a ¾-karat diamond in the center, while the American League championship rings are decorated with several smaller diamonds, rubies and sapphires. The Webb collection was complemented by a 1949 10-karat-gold tie clip with "Del Webb" engraved on the reverse and a 10-karat-gold "ladies" ring, identical in design but considerably smaller than the standard Series ring.
You must be logged in to post a comment.
Log In If You're Already Registered At Cigar Aficionado Online