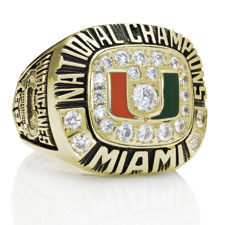 The 1991 Miami Hurricanes' national championship ring.
Lord of the Rings
Those who find ultimate glory in sport are rewarded with massive rings of gold
The importance of a championship ring was never more evident. The Los Angeles Lakers were to receive their title gold in a public ceremony and the jeweler, Jason of Beverly Hills, was taking no chances. Two cars—one of them a bulletproof Rolls Royce—were procured to carry $1 million worth of 16-karat-gold and diamond 2010 NBA World Championship rings to the Staples Center in Los Angeles. "We wanted to be 100 percent sure," says Jason Arasheben, who designed the title gold. "You can imagine the repercussions if we didn't get the rings there on time, on opening night on national television." The precious cargo arrived.
After three months in the making, after line drawings, 3-D computer renderings, after prototypes and repeated consultations with Laker players and brass, the finished rings—which cost more than $10,000 each—were large enough to cover an entire digit on an ectomorph's finger. "They are not for everyday wear," Jason explains. "They are kept behind a glass mantle. It's not a practical ring—it's in your face. It has layers of meaning."
For the Lakers' second consecutive title ring, Jason (who also designed the 2009 versions) decided on something unique. The inside of each ring contains a piece of the actual ball used in game-seven of the finals against the Celtics. Team owner Dr. Jerry Buss had requested 16 larger diamonds—one for each world title—to frame hundreds of tinier diamonds and the Larry O'Brien Trophy to represent the 2010 title. Derek Fisher and Kobe Bryant desired laser-engraved player images, names, and jersey numbers on one shank.
General manager Mitch Kupchak wanted the records 4-2, 4-0, 4-2, and 4-3 to record the tallies of the playoff conquests of Oklahoma, Utah, Phoenix and Boston.
At an opening-night ceremony some 80 members of the Laker family (from massage therapist Marko Yrjovuori to Laker immortals such as Kareem Abdul-Jabbar, and, yes, Jack Nicholson) were presented with rings before the 16th championship banner was hoisted. Who said that only the Yankees could carry off such dignified ceremonies?
Rings in 2010 stand alongside the simplicity of old jewelry in the way a chunky Hummer compares to a 1968 Cadillac. While a championship ring from 50 years ago may have had one diminutive gem, modern-day title rings are storyboards, veritable trophies with a tale inscribed. Less is more? Never. Let subtlety be damned. When New York upset New England in Super Bowl XLII, Giant defensive lineman Michael Strahan made clear his preference. He wanted a dazzler, what he called a "10 table ring"—as in large enough to be spied "10 tables away in a restaurant." The trend to be gaudier appears set in stone.
In our century, sports rings are ersatz creations—a kind of hyper-jewelry. Every millimeter of size may be required to summarize the title season. "It's the detail included in the ring that really tells the story," says Richard Stoebe, communications director for the Minneapolis-based Jostens, the jeweler that has made 28 of the 44 Super Bowl rings.
To some athletes, neither the ring nor the bling is as important as what the jewelry symbolizes: the possessor recalls sweet victory. The leftfielder and slugger on the 1968 World Championship Tigers, Willie Horton lost his ring, got it back years later, and now wears it every day. First-time World Series winner Alex Rodriguez treasures his 2009 Yankees World Series ring. "I know a lot of guys are talking about they're not going to wear it because they're too cool," the third baseman says. "Well, I call B.S. on that. I'm going to wear it and wear it every day. Heck, if they let me wear it to third today, I'll try to do that. But I think that would break the rules." And a tale surely destined for sporting mythology is how Pat Riley lured free agent LeBron James to Miami—not by playing "The Sopranos" reruns as Cleveland and New York did, but by brandishing championship hardware. At one point he slid a bag of rings on a table saying to James, "Here, try one on."
Jewelry and victory have long been intertwined, but the tradition of the championship ring wasn't always set in stone. Take Yogi. According to a colloquial legend, Yogi Berra "has 10 rings." While the record book shows 10 championships, Yogi didn't own 10 World Series rings because Yankee management once gave players a choice of jewelry, such as rings for their wives or watches—The 1956 World Champion Yankees were given 14-karat-gold Rolex Oyster Perpetual watches. (Berra later received replicas of 10 World Series rings representing his 10 championships.)
While baseball and football come to mind first in the world of sports rings, hockey rings may have been the first in major sports, dating to 1893 when the inscription "MHC" (for Montreal Hockey Club) was etched above crossed hockey sticks and awarded to those first Stanley Cup champions. That same year jewelry in the form of a white metal pendant hanging from two chains was awarded to Kid Nichols, a 33-game winner with the championship Boston Nationals. Other goodies—such as gold press pins and tie pins, pocket watches and watch fobs—go back even further, associated with major sports as much as cloth pennants and Champagne.
You must be logged in to post a comment.
Log In If You're Already Registered At Cigar Aficionado Online