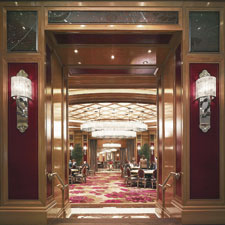 Though technically not a private gaming space, Bellagio ensures that its baccarat room has a private feel and will always convey a sense of discretion.
Behind the Bellagio: A World of Alternate Luxury Awaits the High Roller
There's an alternate universe of luxury for the hotel's high rollers that the average gambler will never see
(continued from page 2)
Bet $500, and somebody will watch what you're doing until he or she is satisfied that nothing fishy is going on. Bet the kind of money that gets you a seat in a private gaming room, and you're going to be scrutinized from the moment you sit down until you get up to leave. And if you happen to be playing baccarat, you can be sure that Brooks and her crew will be paying particularly close attention to how you insert the cut card. "The newest thing in the industry is that players run the cut card along the corners of the dealer's cards, as if they are looking for the perfect spot," says Brooks, scanning the dozens of monitors that line a wall in the surveillance room. "They say that this is for good luck. But, really, the player is wearing a ring with a camera in it. It's filming the order of the cards and transmitting it to a computer. Then a second person sits down to play and, through a tiny earpiece, gets given each optimal play to make."
Baccarat turns into an easy game when you know the cards that are coming next. As pulled off by one particular team, which had been working up and down the Vegas Strip, it also turns gambling into a felonious activity and makes them public enemy number one inside the Bellagio's surveillance perch.
Amore desirable form of attention comes from the casino's fine dining and wine departments. The Bellagio's director of wine Jason Smith maintains 70,000 bottles in a room that looks more like a wine warehouse than a cellar, complete with small trucks, known as pallet movers. They transport pallets stacked with cases of Dom Perignon champagne, Lafite Rothschild, and Harlan Estate cabernets from the wine cellar to restaurants such as Circo (an Italian spin-off of Le Cirque), Prime (Jean Georges Vongerichten's steak house), and Picasso (helmed by superstar chef Julian Serrano, serving New French cuisine, and decorated with original art by its namesake artist).
Sitting at a table inside Picasso, sommelier Smith explains that high-rolling Chinese gamblers, who have recently begun going wild for pricy Bordeaux first-growth vintages and the like, routinely dent his supply. Sometimes they send him scrambling to other hotels in the MGM International chain, searching for the desired bottles. "There is a gentleman who comes in from the Far East. For him, we have to be stocked with Romanee Conti, which can cost $25,000 per bottle,"says Smith. For another player, we did a 1982 tasting with Château Lafite Rothschild, Mouton Rothschild and Château Margaux, all side by side." He shrugs, making the point that there are only so many bottles of Lafite to go around. Then he adds, "If we can't get the exact vintage that a customer wants, we always get something that he's happy with."
Like Asia's most prolific wine lovers, Julian Serrano, who's as serious a chef as you're likely to meet, has learned to be flexible in Las Vegas. Bowing to customer requests, he's made hamburgers (albeit, from ground Kobe beef) for the "children of a royal family" and he's sent out to-go versions of his seared foie gras for high-stakes players who want to eat without leaving the gaming table—even as Serrano admits that food from Picasso does not exactly travel well. "Sometimes I'll go to the villas and cook for guests in there," he says, leaving me thinking that those occasions qualify as taking one for the team. "And when Andy Garcia was here with his family, after shooting Oceans 11, he wanted to go into the kitchen and make paella with me. He wanted to learn how I do it. He actually took notes, and it was a lot of fun."
Depending on the client, chef Julian Serrano creates haute culinary masterpieces or simple Kobe burgers in Picasso's kitchen.
However highfalutin Serrano and Vongerichten and the Circo gang might be, none of them are above taking stocks and starters from the main kitchen of the Bellagio—the one that sends out thousands of room service meals per day. It's why, early one morning, after all the glamour and most of the gamble have been sucked out of Vegas during the previous night, a huge vat of veal stock boils away in an environment that is far more every-man than Picasso or the villas or the high-end gambling dens.
Inside the main kitchen, eggs get made for players with comps and for guests who've paid cash via Expedia. In fact, in a hierarchal place where money defines everything, morning breakfast is the great leveler. Most everybody gets the same eggs, usually made by a Mexican line cook named Aaron. On a busy day, he figures that 1,500 egg dishes pass through the Bellagio room service kitchen, where rolling tables with white cloths are backed up into one another, waiting to be filled and wheeled out again. The goal, says executive chef of in-room dining Brad Skougard, is for guests in a rush "to receive breakfast in 8–10 minutes."
But if omelets are democratic, much else when it comes to food at the Bellagio is not. I, for instance, remember calling down once and requesting a veggie burger (it's not on the menu) only to be told that, no, they don't have veggie burgers. Skougard says that it shouldn't have happened and that somebody should have been able to rustle up the item from another kitchen at the Bellagio. Maybe yes, maybe no. What's indisputable, though, is that for players who gamble high enough, even the most outlandish request will be honored. In other words, there is no "No" for some people.
As was the case when a Middle Eastern gambler and his guests desired a taste of home. "They wanted a barbecue in the desert with a whole baby lamb and chickens," recalls Skougard. "I placed calls, made some quick arrangements and got a whole lamb out of our butcher shop. Then we took them to Lake Mead, dug a hole, filled it with 150 pounds of charcoal, and cooked the baby lamb—all with four hours notice. They ate their meal in the desert, played cards and then got driven back to the Bellagio while I stayed behind and cleaned up."
Maybe, of course, the Middle Easterner had an impending appointment with Jerry Colianni in the high-limit baccarat room, and a yen to gamble so stratospheric that several colossal wagers could cover the price of every lamb in every kitchen in the Bellagio—and the salaries of all the chefs who cook them.
Comments
2 comment(s)
DANIEL REID — SPRINGWOOD, New South Wales, Australia, — September 20, 2011 10:27pm ET
---
Brad Berko — Scottsdale, AZ, USA, — September 22, 2011 1:56am ET
---
You must be logged in to post a comment.
Log In If You're Already Registered At Cigar Aficionado Online